This article is more than 1 year old
Vendors flash smartphone storage in Vegas
Android mobile backup and monster USB stickery
Toshiba and SanDisk are showing off Android phone backup and monster microSD/USB stick products at CES in Las Vegas, but they don't want what happens in Vegas to stay in Vegas.
Toshiba's Canvio for Smartphone is a 500 GB 2.5-inch disk drive inside a flattish circular disk of a case with cable connection to an Android smartphone which it charges as it back ups the data contents, such as photos, videos, music, contacts and documents. That 500 GB capacity seems a tad light though.
A Toshiba app, available from the Google Play Store, needs installing on the phone first. This Canvio product can be shared by several phones and keep their contents separate.
It can also be hooked up to a PC to transfer data from one phone to another.
The thing has a 2-year warranty and the box contains both USB 2.0 Micro-B and USB Type-C cables with a USB Micro-B-Type-A adapter. Get brochurey-type information here. There's no price or availability information.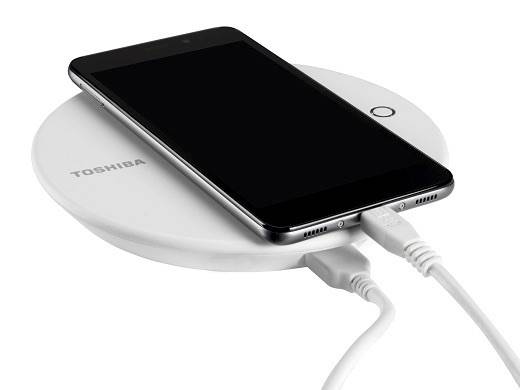 Canvio for Smartphone
SanDisk has unveiled a pair of 256GB flash devices: an Extreme Pro USB stick and an Ultra microSD card.
This USB card will be welcomed by digital camera users needing more capacity on a shoot or video recording session – ditto smartphone users. The formally named 256GB SanDisk Ultra microSDXC UHS-I card, Premium Edition, has 1,500 random read IOPS and 500 random write IOPS.
It can transfer data at up to 95MB/sec (A1 performance standard), so needing 45 minutes to copy a full card's contents to a host.
It can be used in an Android phone running the Android Marshmallow 6 OS, with apps capable of being launched from it.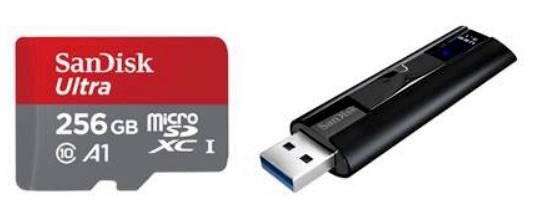 SanDisk 256GB microSD card and USB stick
This microSD card is compatible with SanDisk's Memory Zone app for Android, for backing up host content and managing it. The app is available for free through the Google Play Store.
The 256GB USB stick, with its USB 3.1 interface, is far faster than the microSD card, moving data at up to 420MB/sec when reading and 380MB/sec when writing.
Ironically Toshiba, SanDisk's flash foundry partner, could find its Canvio for Smartphone disk drive inadequate for Android phones using the 256GB USB microSD card. Backup two or three of them and the Canvio's 500GB capacity won't be enough. A 1TB version is surely needed.
The new SanDisk microSD card will cost around $200 and the 256GB USB stick about $180 when they're available later this month. That microSD card pricing is pretty damn good; a previous 200GB SanDisk microSD card cost $399 in March 2015. Thank you, developing flash foundry tech. ®