TCL vows to keep BlackBerry alive
I've been through the desert with a phone with no name
At least one manufacturer thinks a business-focused Android has prospects in 2017.
Chinese consumer electronics giant TCL allowed journalists to fondle the next BlackBerry at CES this week, under strict conditions. The device wasn't given a name or release date, and no specifications were released. That must wait for a formal launch at Mobile World Congress in eight weeks.
BlackBerry announced a pivot to branding and licensing in September – TCL will handle design, marketing and logistics worldwide. But the design shows its Waterloo heritage, with a strong resemblance to the Silver Edition Passport body.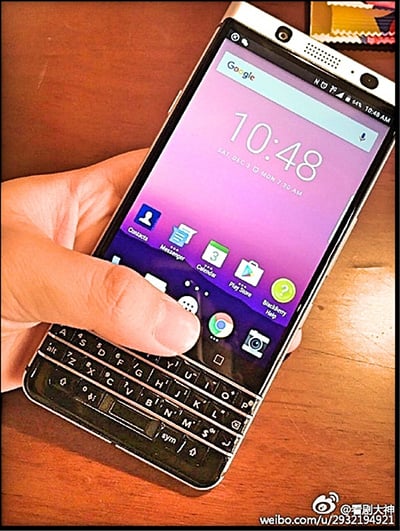 The as-yet-unnamed phone is unusual in being the first monoblock portrait device with BlackBerry branding. The firm's iconic design was a landscape display, with portrait displays incorporated into sliders, such as the Torch 9800.
That allowed the user to operate the device with one hand, something that in the post-phablet era is no longer deemed essential. BlackBerry returned to the slider form factor for its first Android phone, the Priv. With this new model, a 1080 x 1620 pixel display sits on top of a four-row keyboard.
Independent testers have corroborated that the Android QWERTY runs a Snapdragon 625, an octocore processor we saw in the Huawei Nova. Announced 11 months ago, Qualcomm says the 625 uses 35 per cent less power than the 617 it superseded.
The Priv's Snapdragon 808 was plagued with thermal issues, and had to drive a 1440 x 2560 display. The phone's high price also deterred buyers, CEO John Chen admitted in June. One wonders whether a less ambitious, but more conventional entry into the Android world may have been more fruitful.
Brand custodian TCL, which also owns the Alcatel™ and Palm™ brands, says it's confident that there's an enterprise market for "secured" Androids, with regular patches, that generic consumer phones don't fully satisfy. ®