This article is more than 1 year old
MongoDB ransom attacks soar, body count hits 27,000 in hours
Aussie comms watchdog reporting exposed databases.
MongoDB databases are being decimated in soaring ransomware attacks that have seen the number of compromised systems more than double to 27,000 in a day.
Criminals are accessing, copying and deleting data from unpatched or badly-configured databases.
Administrators are being charged ransoms to have data returned. Initial attacks saw ransoms of 0.2 bitcoins (US$184) to attacker harak1r1, of which 22 victims appeared to have paid, up from 16 on Wednesday when the attacks were first reported.
However, some payments could be benign transfers designed to make it appear victims are paying.
Norway-based security researcher and Microsoft developer Niall Merrigan says the attacks have soared from 12,000 earlier today to 27,633, over the course of about 12 hours.
Merrigan and his associates have now logged some 15 distinct attackers. One actor using the email handle kraken0 has compromised 15,482 MongoDB instances, demanding 1 bitcoin (US$921) to have files returned. No one appears to have paid. Merrigan says he is investigating "OSINT and finding different IOCs as well the actors involved".
He credits fellow researcher Victor Gevers with helping victims secure their exposed MongoDB databases, 118 so far, according to the updated working sheet.
All told, a whopping 99,000 MongoDB installations are exposed, Gevers says.
MongoDB security is a known problem: up until recently, the software's default configuration is insecure. Shodan founder John Matherly warned in 2015 that some 30,000 exposed MongoDB instances were open to the internet without access controls.
In the Antipodes, the Australian Communications and Media Authority has been reporting exposed MongoDB installations since July 2015 using intelligence provided by the ShadowServer nonprofit.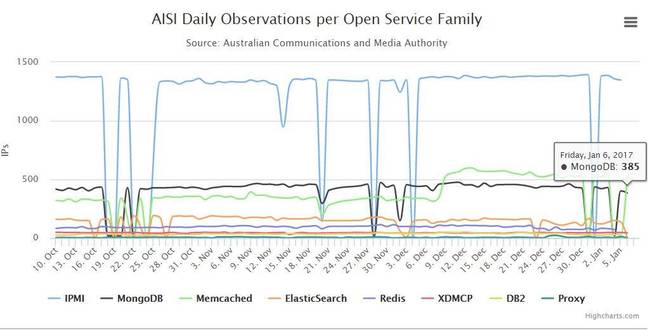 AISI statistics
It reports about 400 exposed MongoDB databases a day to 90 percent of Australia's network providers via the Australian Internet Security Initiative (AISI).
Bruce Matthews, manager of the agency's cyber security and unsolicited communications enforcement section, told Vulture South it has insight into IP ranges covering 90 percent of Australia.
He says the number of exposed MongoDB databases in Australia appears to remain steady.
"We report open and vulnerable services to AISI who can pass on the information to the operator of the service," Matthews says. "It is important that the information is passed on."
He says some exposed MongoDB databases may be for testing purposes but those should still be secured. You can find out how to secure your MongoDB installation here. ®