This article is more than 1 year old
Reg man howls over HPE Moonshot IoT box
But... but... you're using it... as just another VDI box
A Moonshot-class, Internet of Things HPE server is being used for down to Earth VDI by Citrix.
HPE's Edgeline servers are for the use of connected "Things" at an IoT network's edge, the place where end-point device data is aggregated and processed before being sent to a central location. What HPE has realised is that this is also the general enterprise network edge and encompasses remote and branch offices as well, and the applications in use there, such as VDI.
Both IoT and enterprise network edge locations need dense servers converged with storage and networking and application software.
HPE's Edgeline EL4000 is a dense 4-node server in a 1U chassis and a Moonshot system* family member.
The EL4000 has up to 64 Xeon cores and 4 PCIe slots. The component, side-mounted server nodes or cartridges – HPE sometimes describes them as blades too – are, of course, ProLiant products – the 4-core m710x, with integrated GPU, and 4/16-core m510, both cartridge types coming with SATA or NVMe flash storage. They use Mellanox Connect-X3 Ethernet NICs and can also have PCIe or iSCSI external storage. Users can mix the two types of cartridge. Think of these as hyper-converged hardware cartridges needing software to become functional.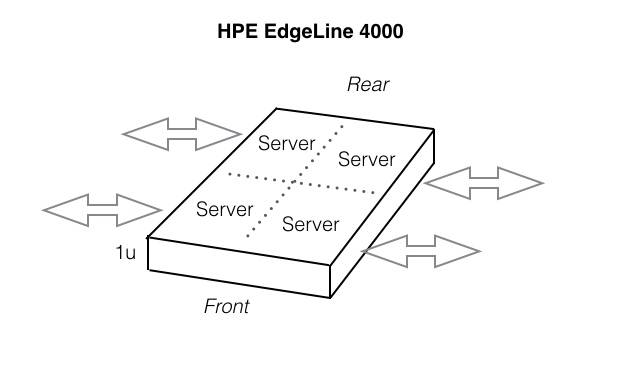 HPE EL4000 node scheme
Citrix and HPE have collaborated to produce a VDI appliance using the EL4000 and XenApp or XenDesktop plus Atlantis USX software, OEM'd by Citrix. The product is part of the Citrix-Ready HCI Workspace Appliance Program and involves a Citrix on-board agent connecting the device to Citrix' cloud. (A Citrix blog discusses how the appliance might be deployed and scaled out.)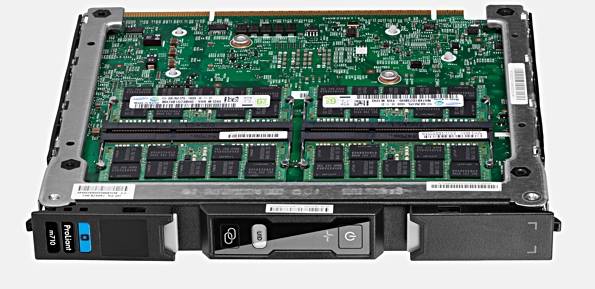 HPE m710x server cartridge for EL4000
+Comment
What HPE's Moonshot has created here is seemingly a fall from marketing hype grace – how can a "Moonshot"-class effort result in a better but still boring and mundane VDI system for ROBO use? VDI is also a long way from what we think of as IoT, which is machines smartened up with sensors pumping out reams of data to local aggregating systems.
And yet, developing a four-node server that fits in a 1U chassis is no mean achievement, and if such a server can be used for general enterprise edge work, like video transcoding or VDI, then why not? It may not be as glamorous as aggregating jet engine performance stats on an airliner, but it's work that needs doing.
We may yet see HPE adding the EL4000 to its hyper-converged infrastructure appliance line of products, which today are represented by the HC 250 and HC 380, to provide a lower-cost entry point. Buy SimpliVity for the high-end and HPE will then have a hyper-converged system line that starts looking formidable. ®
*There's an interesting blog about Moonshot development here.