This article is more than 1 year old
Quantum: Well, would you look at that. We've made some money!
StorNext bringing in the scale-out, tiered storage bread
Quantum has surprised itself with preliminary quarterly revenue numbers well ahead of plan.
Back in October, its second fiscal 2017 quarter saw an uptick in both revenues and profits after a whole slew of quarters showing downturns and even losses, as declining tape revenues obliterated gains from multi-tiered, single namespace and scale-out file management software StorNext. Then StorNext revenues dramatically emerged from the data protection swamp and overtook tape automation.
Back then, Quantum expected its third-quarter 2017 revenues to be between $125m and $130m, $127.5m at the mid-point, and a half-million down on the year before. That was then. This is now – preliminary third-quarter revenues are $133m with net income of $6.5m.
Revenue is 4 per cent up on a year ago and just 1.3 per cent down on the prior quarter, seasonally Quantum's strongest.
Profit (net income) of $6m contrasts with a $300,000 loss a year ago and a $3.8m profit in the previous quarter.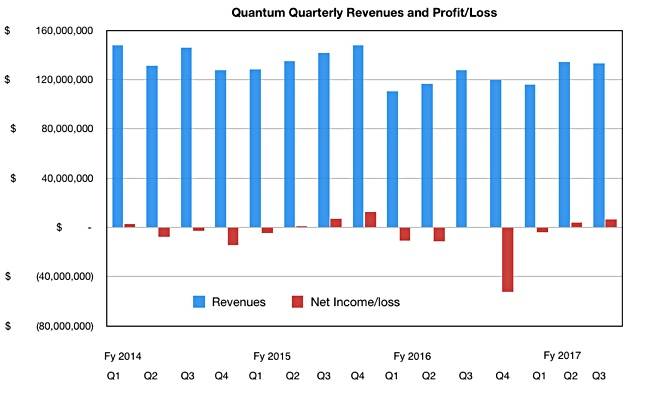 Quantum recently upgraded StorNext to v5.4 and this product line, called scale-out tiered storage, brought in $40m in the third quarter; it was $35.7m a year ago. Quantum crows that this represents an increase of 12 per cent and the 22nd consecutive quarter of year-on-year growth.
Nicely, Quantum's total data protection revenues – think Scalar tape and DXI dedupe – were up $2m annually to $83m as well.
Things are looking up and, revived by this sequence of good quarters as its business model and strategy comes into its own, Quantum may start looking outward at expansion routes. New prospects are steadily opening up as Quantum shakes off its in-the-trenches past and gains confidence. ®