This article is more than 1 year old
Now that's a Blue Screen of Death: Windows 10 told me to jump off a cliff
Microsoft smuggles suicide encouragement manual into operating system
Pic By now, Windows 10 users have grown accustomed to the photos and inspirational quotes from Microsoft adorning their lock screens.
Usually, they are just pleasant landscape or architecture pics, with a randomly selected line or two of text to accompany them. Other times, however, they can be a bit unnerving.
For Reg reader David, it was the latter. He tapped on his Surface Pro tablet earlier this week to wake it up, and was encouraged to take a flying leap from a cliff straight into Galway Bay.
"Are they trying to tell me something? Should the Samaritans be informed?" our man asks. "It's not the first time Windows 10 has engendered thoughts of self-harm in me, but it's definitely the most blatant."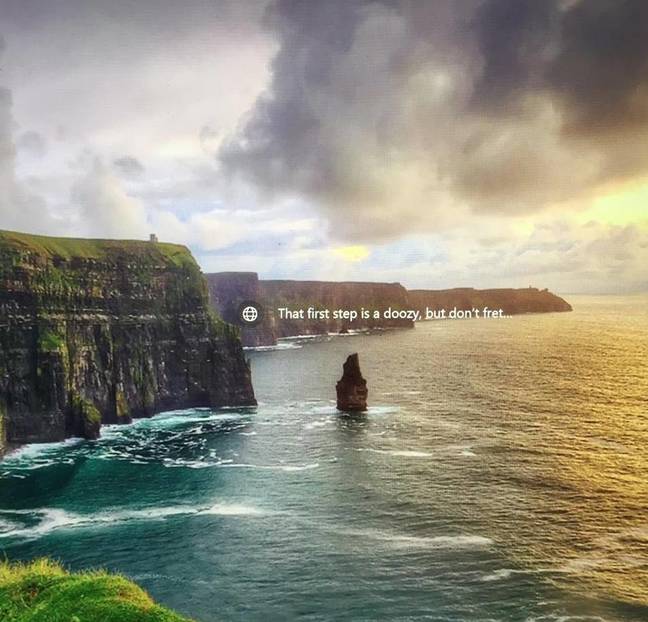 'That first step is a doozy, but don't fret' ... Click to enlarge the offending lock screen that appeared on David's slab
The photo in question is of the Cliffs of Moher in County Clare, Ireland. The clifftops stand 214 metres above sea at their highest points, making the first step a doozy indeed, and also more than likely the last step.
We pinged Microsoft for comment on this interesting new take on the Blue Screen of Death, or perhaps make that the Blue Scream of Death.
A spokesperson asked us which angle we were going to take. What, over the cliff? What do you recommend, 120 degrees? We're still awaiting a reply.
Happy travels to everyone this weekend. ®
Updated to add
A Microsoft spokesperson has been in touch to say: "Windows Hotspots is one of our customers' favorite features of Windows 10. We have editorial and post launch controls in place to catch potentially insensitive combinations – unfortunately this image was missed, but we have since removed it from circulation."
What can we say? It's The Reg wot won it.