Father of Android II: A Hardware Comeback
What will Andy Rubin do next?
---
The "Father of Android" Andy Rubin is plotting a return to hardware – and he could beat Google's own Android successor Andromeda to market.
According to Bloomberg, Rubin, who left Google in 2013, has hired former Android engineers for his new venture Essential, with the idea that a "high-end" smartphone will act as a kind of hub for home AI gadgets. In addition, Bloomberg reports, "Essential's engineers are developing a proprietary connector that serves double duty for charging the battery and expanding the phone's functionality over time, one person familiar with the planning said. The magnetic connector would allow Essential or even third parties to create hardware accessories that add features to the smartphone."
Neither idea is new.
At the turn of the millennium, the Bluetooth industry was keen on PANs (Personal Area Network) and "piconets", which anticipated much of today's mobile and IoT gadgetry: device would mediate with device. In 2003 the industry scrambled to sell you the idea of a "personal server" – which ultimately led to the competing low-power protocols 802.15, Z-Wave and ZigBee. Although the PAN vision was never fulfilled, smartphones today arguably conduct much of the work of a "device hub" anyway.
Nor is the idea of an expansion slot or open connector on a phone new. However, vendors who have experimented with this (LG with its LG "Friends" and Motorola with its Moto Mods) have mixed fortunes. LG admitted that its Friends expansion slot didn't help sales of its flagship.
And the concept faces several challenges: the first generation of IoT has failed to enthuse the mass market, and its rotten security has raised economic and privacy concerns. The AI bubble is yet to burst – but as I explained here, the signs are that consumers view proactive AI-based "help" as a nuisance at best. Any investor hopeful that consumer AI is a valuable differentiator needs to remember Clippy the paperclip.
So based on the limited information gleaned by Bloomberg, it's hard to see what Essential Inc. can bring to market. Nevertheless Rubin's track record – from WebTV to the Sidekick to Android – attracts both interest and investors.
We first encountered Rubin (and his dog) shortly after he released his first phone, the Danger Hiptop, in Palo Alto 15 years ago, at the depths of the Dotcom crash.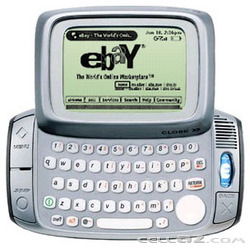 We were three years into the "phoney smartphone war", which kicked off in 1998, when the established GSM handset vendors ganged up on Microsoft to create Symbian. The conventional wisdom was that mobile would evolve into a sophisticated horizontal industry, with vendors competing at every level. In theory, this laudable model would give users more choice, but also integration headaches. And it was taking time to fulfil this vision: 3G was late and so was a mass-market Symbian OS. The services companies had to wait for both.
By contrast, Rubin saw that the handset didn't actually have to be that complicated, nor the network that fast, if the server could handle the work. Like BlackBerry, Danger Inc. worked at both ends, with a proxy crunching websites so they were reasonably usable on their device on a 2G network. The Hiptop, later better known as the Sidekick, may have been monochrome, but it was slick and fun to use.
After leaving Danger in 2003, Rubin set up a stealth startup called Android Inc., aiming to create a platform rather than an end-to-end offering. But like Danger, the platform was based on Java. The Android team's quick thinking: pivoting to challenge the iPhone rather than the BlackBerry, and Google's aggressive giveaway strategy saw the platform triumph. In Q3 Android accounted for almost 87 per cent of all global smartphone shipments, according to IDC.
Rubin's earlier vision of WebTV as the gateway to the internet for the masses may now be wildly optimistic – but today every TV ships with some kind of web browser.
Google's own likely successor to Android, outed as "Project Fuschia" last year, is still years away. ®