This article is more than 1 year old
UK, you Cray. Boffins flex ARM in 'first-of-its-kind' bonkers HPC rig
£3m granted for 'emerging architectures' supercomputing mashup
A fellowship of four UK universities, along with HPC veteran Cray and the Met Office, have been handed £3m to build a 10,000+ ARM core supercomputer.
The project could settle whether ARM-based supercomputers can beat Xeon ones on cost while offering the right performance.
The scheme is called Isambard, after 19th century Brit engineering heavyweight Isambard Kingdom Brunel, was revealed by Prof Simon McIntosh-Smith, the leader of the effort, and professor of High Performance Computing at the University of Bristol, at the Barcelona-based Mont-Blanc conference on January 17. The theme of the conference, handily, was "ARM: On the road to HPC."
Four southwest UK universities – Bath, Bristol, Cardiff and Exeter – form the GW4 Alliance. It will work with what it calls two industry partners – Cray and the Met Office – to build the Isambard service and system, which will be hosted by the Met Office.
They are receiving the £3m grant from the Engineering and Physical Sciences Research Council (EPSRC), which is the main funding agency for engineering and physical sciences research in the UK.
In a press announcement McIntosh-Smith said, "Scientists have a growing choice of potential computer architectures to choose from, including new 64-bit ARM CPUs, graphics processors, and many-core CPUs from Intel. Choosing the best architecture for an application can be a difficult task, so the new Isambard GW4 Tier 2 HPC service aims to provide access to a wide range of the most promising emerging architectures, all using the same software stack."
He added: "Isambard is a unique system that will enable direct 'apples-to-apples' comparisons across architectures, thus enabling UK scientists to better understand which architecture best suits their application."
Although this implies the Isambard service will have multiple compute hardware architectures, it appears that the installation will be mostly ARM-based. McIntosh-Smith told TOP500 News. "It's one of, if not the first serious, large(ish)-scale ARMv8 64-bit production machines. And it's the first time Cray has explicitly announced an ARMv8 product meant for more than just prototyping."
We might consider that the Bull Mont-Blanc system uses Cavium's Thunder X2 64-bit ARMv8-A server processor SoC (System-on-Chip). Cray may well do likewise with Isambard.
The system specs: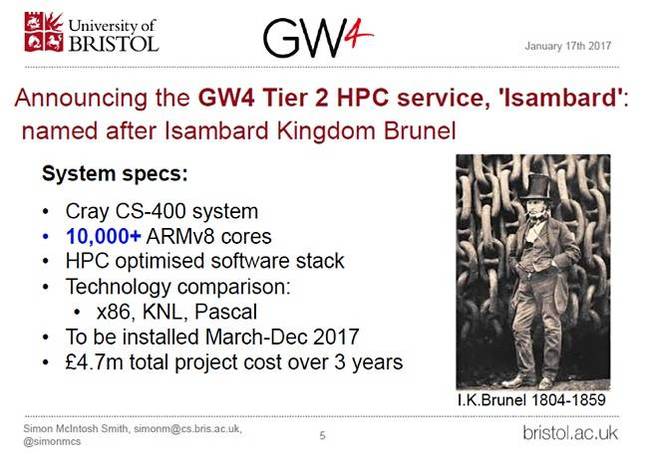 It will also feature some x86 CPUs, Knights Landing Xeon Phi co-processors, and NVIDIA P100 GPUs.
Cray's clustered CS400 (PDF) uses Xeon E52600-v4 CPUS and optionally supports Phi co-processors and NVIDIA Tesla GPUs plus FDR InfiniBand, QDR True Scale or Intel's Omni-Path interconnects.
Adrian Tate, director of Cray's EMEA Research Lab, said Cray would build an Isambard centre of excellence: "We are excited to be a part of this important collaboration with GW4 and the Met Office as we work together to explore and evaluate diverse processing technologies within a unified architecture. By building a Centre of Excellence with GW4 and technology partners, we expect deep insights into application efficiency using new processing technologies, and we relish the opportunity to share these insights with the UK scientific community."
Isambard will offer a tier-2 HPC service to UK-based scientists.
Paul Selwood, Manager for HPC Optimisation at the Met Office said: "This system will enable us … to accelerate insights into how our weather and climate models need to be adapted for these emerging CPU architectures."
In other words, the Met Office will see how Isambard performs running its weather and climate modelling software. That runs at the moment on an x86-based Cray XC40 supercomputer and Isambard may offer a cheaper alternative needing less electricity.
Other Isambard service users will also be able to evaluate how their HPC jobs run on ARM hardware instead of the Cray x86 kit they currently use. The evaluation could reveal whether ARM CPUs need Phi-like co-processors and/or GPU help in computing the jobs currently run on Cray XC30, Xeon-CS400 and XC40 systems.
Cray has not announced an ARM-based CS400 product initiative and we should not assume that it will. ®