This article is more than 1 year old
Hyperconvergered-ception: HPE swallows SimpliVity
Hyperconverges hyperconverger, thereby converging market
Analysis SimpliVity, the second-placed hyperconverged infrastructure appliance startup, has been bought by HPE for $650m, setting the stage for mainstream vendor dominance of the hyperconverged market.
HPE now has its own proprietary software stack plus a 3PAR-style hardware-accelerated product line that will fit nicely above its existing HC 380 and 250 products launched just a month ago with their vSphere and Hyper-V (HC 250) and StoreVirtual SAN (HC 380) software environments.
HPE gets SimpliVity's OmniStack software and OmniCube hardware and software at a price considerably less than the $3.8bn to $3.9bn rumoured back in November 2016.
At that time, SimpliVity was thought to be seeking a funding round or an IPO exit.
SimpliVity certified Huawei hardware for its omniStack software in December last year, with Huawei joining Cisco, Lenovo and Dell EMC on SimpliVity's meet-in-the-channel server HW supplier list.
The company said in November that it had a good third 2016 quarter with record software sales exceeding 70 per cent of total sales. The software is what is important here. The company says the hyperconverged market is estimated to be around $2.4 billion, and expected to grow at a 25 per cent compound annual growth rate to reach nearly $6 billion by 2020.
In a canned statement HPE's Antonio Neri, Enterprise Group EVP and general manager,said the company will "bring together its best-in-class infrastructure, automation and cloud management software with SimpliVity's industry-leading software-defined data management platform, to deliver the industry's only "built-for-enterprise" hyperconverged offering.
He added:
For current HPE customers and partners, the company will continue to offer its existing hyperconverged products, the HC 380 and the HC 250. For SimpliVity customers and partners, there will be no immediate change in the product roadmap and HPE will continue to support existing SimpliVity customers and platforms.
The intent is for HPE to offer SimpliVity's OmniStack software qualified on its ProLiant Dl380 servers within 60 days. Then "in the second half of 2017, the company will offer a range of integrated HPE SimpliVity hyperconverged systems based on HPE ProLiant Servers."
That implies the current HC 250 and HC 380 could be phased out, a point noted by Stifel MD Aaron Rakers. It also implies farewell to SimpliVity's OmniCube hardware.
Neri mentioned a couple of software roadmap items: "workspace" controls, which are self-service portals to compose virtualized and containerised resources, and intended to speed accelerate application development and deployment. Predictive analytics will also be added to the systems "to increase resource utilisation and proactively respond to needs for new resources".
We think the EL4000 is HPE's base hyperconverged offering with its Citrix/Atlantis VD software.
Market effect
Here's how Gartner positioned the integrated systems (converged + hyperconverged) in October last year.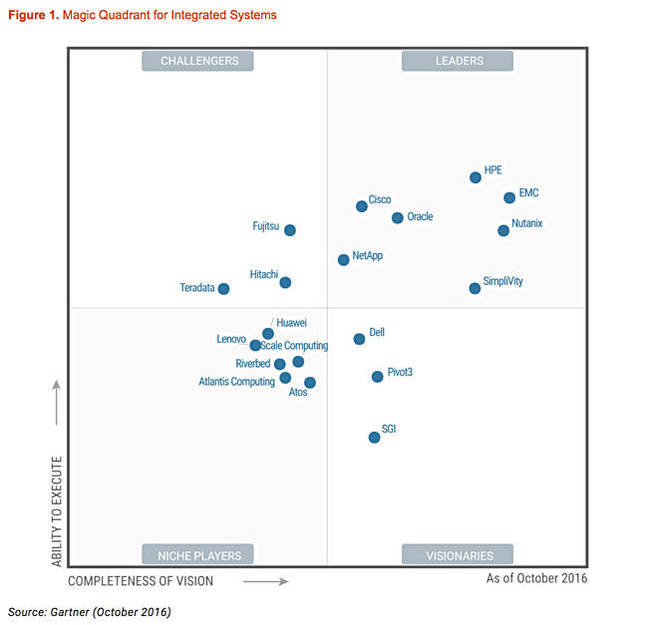 Gartner Magic Quadrant for Integrated Systems, October, 2016.
It seems clear now that Dell EMC and HPE lead the market, with HPE in second place behind Dell EMC, and Nutanix in third place.
+Comment
To get a picture of the hyperconverged market on its own, we have to do some supposing and inferring. We can readily assume that Dell EMC and Nutanix are in the top two places, with HPE-SimpliVity in third place. It is becoming a converged and consolidated market. Some months ago IDC reckoned HPE had only two per cent market share, so the vendor has risen up the ranks by buying SimpliVity, but we think this is not enough to overtake either Nutanix or Dell-EMC.
Some way behind will be "the rest" – a second tier including Cisco with HyperFlex, Lenovo with multifarious meet-in-the-channel deals, Huawei and Fujitsu. Then we see a third tier of smaller HCIA (hyperconverged infrastructure appliance) suppliers: Atlantis, Pivot3, Maxta, Scale Computing, HyperGrid, etc. Behind them - and effectively nowhere in the market - are IBM (no X86 server products) and NetApp.
We can expect doubt about the longevity of SimpliVity OmniStack software certification on non-HPE hardware.
The hyperconverged systems market is characterised by incumbent server vendors using vSphere, Hyper-V and KVM hypervisors plus VSAN or some other virtual SAN software, with Nutanix building up its Acropolis/KVM software environment.
The software-only vendors such as Atlantis, Pivot3, Maxta, Scale Computing, HyperGrid will now have to operate as niche suppliers. They have little hope of joining the leaders.
So does HPE's acquisition of SimpliVity mean that sustained hyperconverged market success belongs to the major server platform vendors? It is beginning to look that way, but let's see if Nutanix, the major standalone player, proves us wrong.
The company may be doing well but is an attractive target. If Cisco or NetApp has any ambitions in this market they will need to bid for Nutanix, currently capitalised at $4.27bn. This is a trifle for Cisco and a daunting sum for NetApp.
To conclude, by letting HPE buy SimpliVity, Cisco and NetApp effectively raised the cost of entry to the HCIA top table from $0.65bn to $5bn. ®