Google has rejigged how video links appear in its search engine.
The ad broker made the switch on Friday and stated that it had simply "improved" the way links to videos are organised, rather than explicitly pointing out that it currently has European Union regulators on its tail.
"The feature scans the entire web for video content and algorithmically ranks the best sources for each song," said Google.
"Rather than return repetitive links, we group results for the same song together, making it easier to scan and choose the song you're looking for."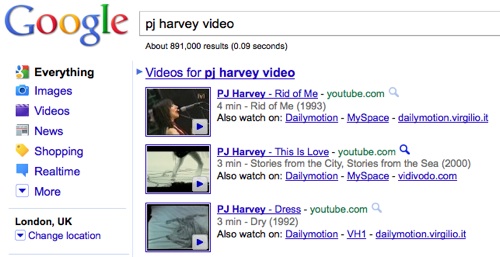 No gaming to see here. Move along, people
But many will wonder why, given the power of Google's online algorithmic muscle, the company hadn't offered up its vid searches in that way previously.
In March 2010, Microsoft ended up pushing out an algorithm used to generate a browser ballot screen to certain Windows users in the European Union, as part of a deal with the European Commission that followed an antitrust investigation against Redmond.
Perhaps the Mountain View Chocolate Factory decided it would be good to be seen to be doing the right thing with some of its estate, before it is ordered to do exactly that by Brussels.
In December last year, the European Commission formally launched an investigation into Google's search and ad practices. But hey, perhaps that's just a coincidence... ®
Similar topics