This article is more than 1 year old
Ain't no party like an 80-plus-customer Cohesity party
Oh, bless
Analysis Secondary storage silo converging startup Cohesity has added entry-level hardware as it reaches 80+ customers and 100+ US resellers.
The existing scale-out C2300 and C2500 systems have 12-48TB and 24-96TB of disk capacity and 800GB-3.2TB and 1.6TB-6.4TB of PCIe flash, respectively.
The C2100 slots in underneath these systems with 6TB-24TB of disk capacity and 800GB-3.2TB of PCIe flash capacity.
A table below provides a fuller picture of the hardware characteristics of these systems.
We're told by marketing VP Patrick Rogers that Cohesity has passed 80 customers since it started selling a year ago and its new customer count per quarter since it started shipping with 7 customers has been 5, 11, 22 and then just under 40. We would point out these are small numbers; the latest Veeam results mention a historical average of 4,000 new customers every month.
Cohesity customers are spread across verticals and are all in the US except for five in EMEA. Its competition, it says, is either for backup targets or backup software.
It meets Data Domain 60 per cent of the time in the backup target space and has an 80-90 per cent win rate, with Rogers citing global dedupe, backup software and non-disruptive scaling as three of the reasons customers prefer Cohesity.
The main backup software competition is Veritas and NetBackup (30 per cent of the time), Veeam and, in third place, Commvault, TSM and Avamar. We understand Cohesity wins here because its customers want more than backup software.
Does it meet Rubrik? Yes, 25 per cent of the time, and Cohesity's win rate is well north of 50 per cent, with Rogers pointing out Rubrik's product can't consolidate file shares while Cohesity's can.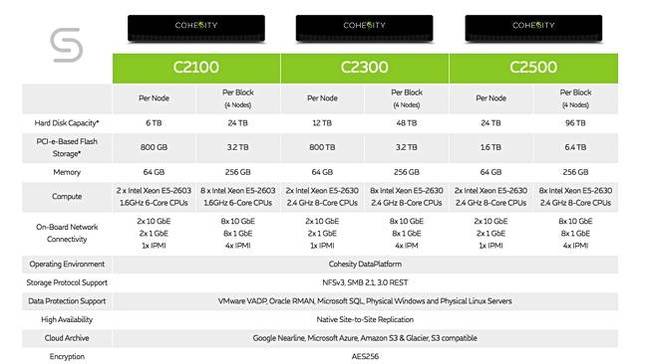 Cohesity was founded in 2013 when it had a $15m funding round, and then was given $55m in a 2015 B-round. It has 140 employees, of whom 36 are in sales. The 18 sales teams have one sales exec and one system/software engineer each, with all fulfilment done through the 106 channel partners, all of whom are in the US.
The company is actively recruiting a w-w sales head and a VP EMEA will follow as night follows day, with channel partner recruitment in EMEA following that (there are 4 sales teams in EMEA at the moment). The equivalent structure in APAC would logically follow on.
This will cost money and we would think Cohesity is husbanding its cash carefully, restricting cash burn and wanting to bring in more revenues to help fund its growth rather than going to investors and asking for another $50m.
The product – the Cohesity data platform hardware and software – runs on-premises in data centres and there is also a software edition that runs in the Amazon, Google and Azure clouds, providing a cloud backend for a hybrid on-premises public cloud environment and cloud-based data protection and more.
The software is app-aware with regard to relational databases. It does not yet support distributed databases, like MongoDB, but Rogers says: "We can. We will. It's not our customers' main priority."
There is a partnership with Pure for Cohesity products to be used as secondary storage behind Pure's FlashArray. The coming FlashBlade will be a high-performance NAS product and so Cohesity's Data Platform should complement that, since it is not a high-performance NAS.
Will Cohesity work towards similar deals with other stand-alone all-flash array vendors? Rogers said: "Yes, it's likely." Kaminario? He wouldn't be drawn out, but for us at El Reg it would be a logical pairing.
The C2100 will be suitable for deployments in an enterprise's smaller data centres, but not necessarily for remote and branch offices where the addition of an extra box wouldn't be seen as helpful. We note that Cohesity has a virtual edition of its software running in virtual machines in the cloud, and virtual machines can run in virtualised servers wherever they happen to be.
Reg comment
Rogers said Cohesity is operating in a $50bn fragmented market made up from Backup target, backup software, public cloud copies, test/dev copies, files and objects, and analytics segments. Its software can unify data across these segments – which is its opportunity and also its problem.
Its potential customers may not appreciate a message that Cohesity can unify and reduce the cost of its operations in these areas, not when it wants a point product and is looking for a best-of-breed one in one or more areas. That makes for a simple buying choice, whereas a multi-segment purchase needs more considered and lengthy analysis and more difficult ROI calculations.
It seems to us that it needs customers who are experiencing secondary data silo sprawl and pain; a sufficiency of pain that Cohesity's medicine will bring relief. It has found 80+ such customers in a year, with almost 40 of them coming on board in the last quarter, against a background of 106 resellers, helped by 18 sales execs and 18 engineers.
We could say that the sales force and resellers are taking a while to get productive, that they are going to get more productive, and sales will ramp rapidly. We think that, at a 45 per cent new customer addition rate per quarter, Cohesity could have some 350 customers in a year's time. Our gut feeling is that this is not enough, that Cohesity has to grow faster. And that means a more productive North America and the EMEA geography ramping up too.
Compared to Data Domain, Veritas and Veeamm, Cohesity is a minnow and those companies are not hurting, giving it a relatively competition-light window to develop its tech and grow its market footprint. Pure and Nimble and companies like that, with strong funding, could and have burned cash and bought market share. Cohesity is not doing that and its success, if it comes, will be a slower affair.
So ... the story so far is good but not dramatic or amazing. It's a foundation on which to build and we'll see what Cohesity's construction efforts bring out as 2017 progresses. ®