This article is more than 1 year old
StorageCraft gobbles Exablox to become data management monolith
Data protection SW biz buys filer hardware startup
Analysis Backup SW biz StorageCraft has bought Exablox, a startup making scale-out deduping filer arrays using underlying object storage software.
The OneBlox arrays feature variable-length deduplication and compression and provide both primary and secondary storage for small and medium enterprise customers.
Exablox bundled StorageCraft's ShadowProtect backup SW with its OneBlox nodes in October last year.
StorageCraft provides an integrated suite of backup, disaster recovery, system migration, virtualisation and data protection software running on Windows and Linux for small and medium-sized businesses. Its most prominent brand is ShadowProtect. The company has more than 8,000 VARs that it sells on a subscription basis through around 3,100 managed service providers (MSPs).
It was founded 2003 by VP product management Brandon Nordquist, CTO Scott Barnes, VP marketing and business development Curt James, ex-CEO Jeff Shreeve and COO Russ Shreeve. It was self-funded with no outside investors and grew to around $100m in annual revenues from its Draper, Utah base. It has its European headquarters in Cork, Ireland, and offices in Australia and Japan.
So far so good – and then an exceptional event happened: private equity firm TA Associates bought a majority stake in the business for a cool $187m in January 2016, and brought in a new chairman and CEO, Matt Madeiros. He was previously VP and GM for security products at Dell, having joined when Dell bought SonicWALL in 2012 for an undisclosed amount. He'd been president and CEO at SonicWALL from 2003 until 2012.
In November last year, as part of the Dell-EMC acquisition, SonicWall was going to be spun off as an independent business with Bill Connor its CEO.
So Madeiros then pops up as the new broom-in-charge guy at relatively sleepy StorageCraft. The two Shreeves leave but the other co-founders and exec staff stay. Madeiros and TA have big ideas to grow the business to the $500m-per-year level.
In September last year, StorageCraft bought data analytics technology from Gillware Data Services for an undisclosed sum. It says it could use this tech to analyse customer files and work out which data to backup, because it's important, and which not, thus saving time and money.
StorageCraft's SW was often bundled with BRD (Backup Recovery Device) appliance hardware. Indeed, Exablox and StorageCraft did a ShadowProtect bundling deal in October 2016. By buying Exablox, it can use Exablox's hardware and software as that BRD appliance, so getting a larger share of the customer's spend.
Also, because OneBlox is scale-out, reliable, and has data reduction, then it could be used by StorageCraft's MSP customers to provide backup services. That must seem an attractively neat idea to Madeiros and his team.
How much did StorageCraft pay?
Exablox was founded in 2010 by Matthew Catino (VP business development), Tad Hunt (CTO), and Frank Barrus (chief architect). Doug Brockett is its CEO and Tad Hunt left to join Google in November 2015.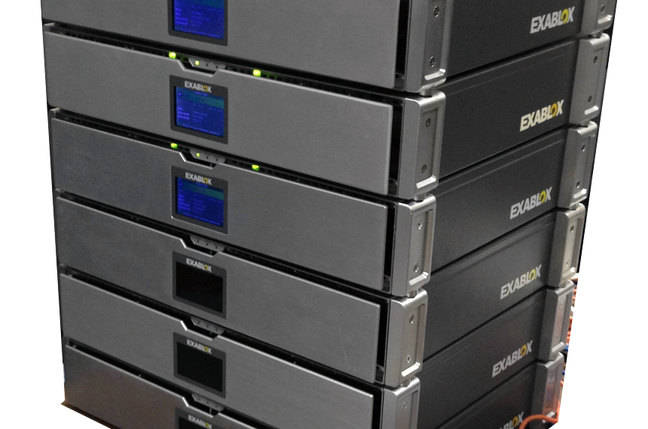 Exablox OneBlox hardare nodes
The firm took in $45.5m in funding across three rounds: $7.5m in 2011; $16m in 2012; and $16mn in 2015, which was accompanied by a $7m investment from Toshiba. So we might assume that Exablox would cost a minimum of $45.5m – north of that if it was doing well, and south if it was doing badly.
One more thing: before joining Exablox, Brockett was VP and general manager of SonicWALL from 2002 to 2010, where he reported to Matt Madeiros from 2003. Small world, eh?
We asked Exablox marketing VP Shridar Subramanian questions about the acquisition.
El Reg Can you say how much StorageCraft is paying to acquire Exablox, and whether it is a cash, shares, or cash+shares deal?
Shridar Subramanian As both companies are private, we are not disclosing the financial terms of the deal.
El Reg Could you say what the acquisition means in terms of Exablox staff and its facilities?
Shridar Subramanian All of Exablox staff and the facilities will remain and now are a part of StorageCraft. Douglas Brockett will take on the role of president of StorageCraft, Ramesh Balan will continue as the VP of engineering for the Exablox products and I will take on the role of VP of marketing for StorageCraft (responsible for both StorageCraft and Exablox products).
El Reg Will the Exablox company name be lost and the combined company be known as StorageCraft?
Shridar Subramanian We intend to keep the Exablox brand as is and will continue to market and sell all Exablox products. The combined product portfolio from Exablox and StorageCraft enables us to create an end-to-end data management and data protection solution that addresses the on-prem and off-prem storage requirements for the mid-size enterprise segment.
El Reg Will the Exablox product continue with StorageCraft software added to its software stack?
Shridar Subramanian The combined company's product portfolio is complementary and there are significant synergies between the products. We are working on the mid-term joint product roadmap that integrates the key elements of the technologies. Having said that, OneBlox and OneSystem will continue to be sold as primary and secondary storage with or without StorageCraft software. Additionally, StorageCraft software will continue to be sold with or without OneBlox.
Comment
Here we see the surprising strength and depth in the data protection market and, we think, the relative weakness in the object storage market now that the mainstream vendors have developed and/or acquired object storage startups.
Exablox has a unique identity, being more of a focussed SMB scale-out filer supplier than an object storage system per se. On that basis it is probably doing well, especially as, with StorageCraft's MSP customers, Exablox systems will likely be used by MSPs to offer cloud services.
StorageCraft is an ambitious supplier and we'll watch with interest to see how its products develop internally and how it develops its overall product set. ®