Analysis IBM's fourth quarter and full year 2016 results showed the now traditional storage hardware revenue decline, while all-flash array and software-defined storage revenues grew double digits.
IBM's results announcement material said that storage HW revenues were down 10 per cent on the year. Our calculation is that they are thus $718.2m, compared to $768m a year ago. In the fourth 2010 quarter Big Blue's storage hardware revenues were $1.2bn; six years later they are $718m, a 40.2 per cent drop.
Full 2016 storage hardware revenues were $2.16bn; they were $2.37bn in 2015.
In our view, IBM is experiencing a move from disk to flash for primary data access, another from shared external arrays to hyper-converged systems, in which market segment IBM is not represented, and a rise in software-defined storage.
IBM says it is delivering innovation in its more traditional businesses and monetising core technologies. Storage would seem to be one or both categories and storage hardware is clearly not a strategic imperative, unlike Watson and Blockchain.
CFO Martin Schroeter touched on storage in his announcement remarks: "Our Systems revenue reflects growth in z Systems, offset by declines in Power and storage as we continue to address shifting markets. Our Power performance reflects our ongoing shift to a growing Linux market while continuing to serve a high value, but declining, UNIX market."
Storage hardware was down 10 per cent this quarter, which reflects the shift in value towards software-defined environments. Storage revenue declines were mainly driven by midrange and high-end disk.
That would imply DS8000, XIV and Storwize disk and hybrid disk/flash arrays.

IBM quarterly revenues abd net income to Q4 2016. Click image to enlarge it.
On the bright side he said: "However, we are now benefiting from a full suite of all-flash array offerings and this portfolio grew double digits in the fourth quarter. We also continued to see double-digit revenue growth in Software-Defined Storage, particularly in our Spectrum Suite and Cloud Object Storage offerings, which is not reported in our Systems segment. Storage gross margins are down, as hardware continues to be impacted by both volume and price pressure."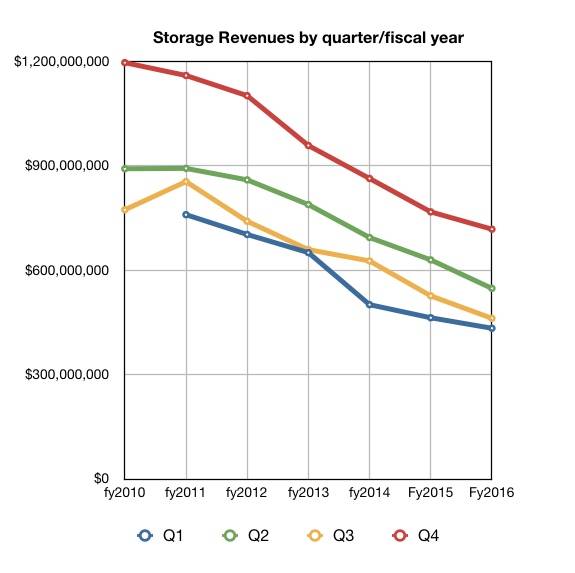 IBM is not revealing actual numbers for all-flash array product sales nor ones for Software-Defined Storage so we can't assess when it is likely declining legacy storage revenues will be overtaken by newer AFA and SW-defined storage revenues.
Since it is not revealing such numbers or a crossover date when AFA and SW-defined revenues will exceed legacy disk array revenues then we assess that the overall storage hardware revenues have a way to fall yet. Will we see these revenues dropping under $2bn for 2017? Almost certainly, with a sub-$1.9bn year perfectly possible. ®
Similar topics