Chinese chip shop looks hot to trot as Tsinghua drops $30bn on factory
Largest fab in the Middle Kingdom to be surrounded by huge 'international city'
China's flash-fancying Tsinghua Unigroup is going to build a $30bn-plus flash fab.
This comes just two-and-a-half weeks after we learned that China's Yangtze River Storage Technology (YMTC) has started building a $24bn 3D NAND flash plant in Wuhan.
As Tsinghua Unigroup owns 51.04 per cent of YMTC, its flash enthusiasm is ginormous: $24bn here, $30bn there – pretty soon we'll be talking about real money.
Tsinghua Unigroup's $30bn plant is being built in Nanjing. The first phase of the development will cost $10bn and is intended to produce 100,000 wafers a month. The fab will produce both DRAM and 3D NAND chips for smartphones and other computers.
There's no information about time scales but we'd guess phase one will complete in early 2018.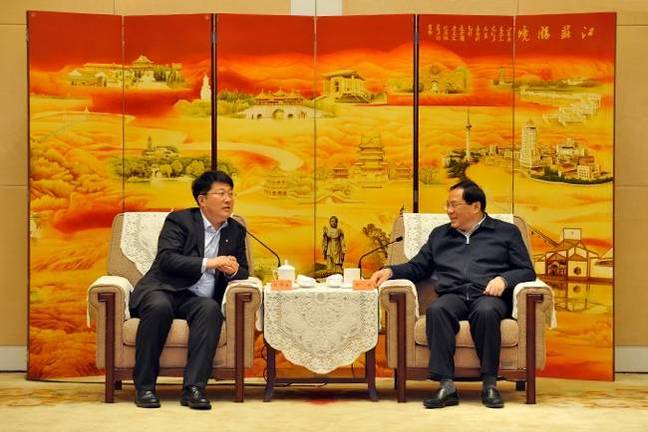 Jiangsu Provincial Party Committee Secretary Li Qiang (right) and Tsinghua Unigroup Chairman Zhao Weiguo (left) at the chip fab signing ceremony
As well as the new fab, which could be the largest in China, Tsinghua Unigroup will spend about $3.5bn building a supporting International City with a science and technology park, design packaging industry base, international schools, commercial facilities, and what's called an international talent apartment complex facility. ®