Boffins ready to demo 1.44 petabit-per-second fibre cables
We can either build more submarine cables or more efficient submarine cables
---
Today's international optical systems carry impressive quantities of data, but as 'net traffic continues to grow they'll likely run out of capacity.
That's had boffins working on ways to pack more spatial paths inside the fibres, so if you were laying a twelve-pair cable across the Atlantic, you'd get multiple paths per fibre.
The research arm of Japanese network operator NTT is getting ready to demonstrate a system that can put 12 cores in a single 125 micron fibre, according to this announcement at The Optical Society.
That would, in a hypothetical deployment, yield an impressive throughput: 144 cores, and current Dense Wavelength Division Multiplexing (DWDM) systems, each could carry 100 wavelengths, each able to run 100 Gbps. That's 1.44 million Gbps – or 1.44 petabits per second.
The bottlenecks are: getting light down each individual core without the signals suffering interference or degradation, and; signal processing.
The NTT multi-core fibre contains 12 cores in a square lattice, which the researchers say fitted best inside a standard-profile 125 micron fibre. They also tested a 19 core hexagonal arrangement (first demonstrated last year), and a 10 core circular layout. While last year's 19 core layout would yield higher throughput, but it required 250 micron fibres.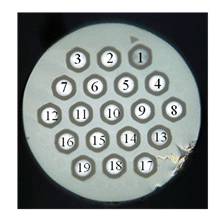 NTT's 19-core fibre from 2016
With so many cores in a fibre, spatial mode dispersion becomes a problem. Signals on the fibre get smeared out in the time domain, which makes it hard for the receiver's digital signal processing (DSP) to recover signals in real time.
The announcement says research engineer Taiji Sakamoto and his team developed what they call a "randomly coupled core" that reduces spatial mode dispersion.
The lab-level research – NTT reckons it still needs as much as a decade's work to be ready for commercial deployment – will be presented in March at The Optical Society's Optical Fiber Communications conference/exhibition in Los Angeles. ®
Similar topics
Broader topics