We burned chips in 2016... but then semiconductor sales got healthy again. Whew
Memory is king: Industrial, auto, storage app ICs grow
Global semiconductor revenue is set to rise 7.2 per cent over 2016 because of ramping demand for DRAM and app-specific standard products for the IoT and allied markets, according to Gartner's digital witch-doctors.
ASSPs (app-specific standard products) are like ASICs but for general customers, not individual ones.
"After a poor start to the year, characterised by inventory burn-off, the second half of 2016 was fuelled by inventory replenishment and improved demand and pricing," said Adriana Blanco, a Gartner senior research analyst.
In 2016 the semiconductor industry saw revenues of $339.7bn, a low 1.5 per cent increase over 2015. However, in 2017, revenues should increase to $364.1bn, predicts the analyst.
In 2016, Gartner says, the top 25 semiconductor vendors' combined revenue increased by 7.9 per cent compared with 2015, and accounted for 75.9 per cent of the market. It provides a table listing the top 10 vendors, headed by Intel, with Samsung Electronics and Qualcomm in second and third place respectively.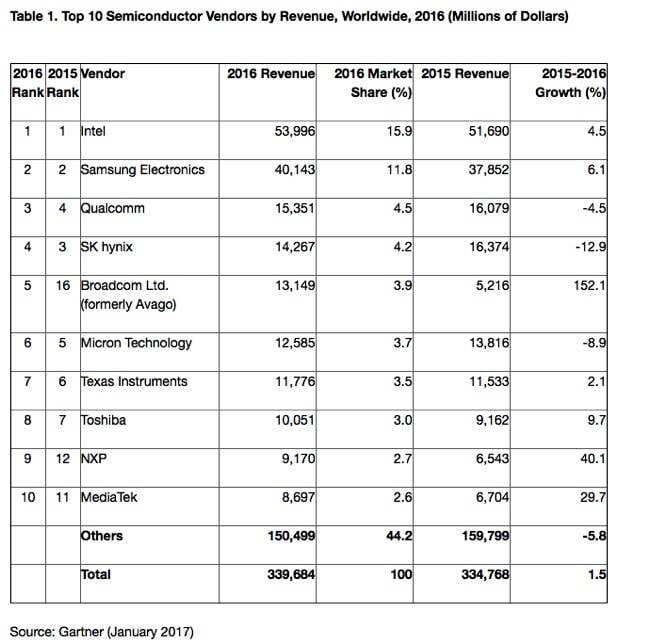 Gartner senior research analyst Blanco added: "Overall, semiconductor revenue for the second half of the year was much stronger than the first half, reflecting the strengthening memory market and continued inventory replenishment, as well as inventory build for both the iPhone 7 and the holiday season."
Both DRAM and NAND were over-supplied at the start of 2016, but later moved into under-supply with prices rising.
Blanco said: "Wireless and compute are the largest end markets for semiconductors but showed very different growth patterns in 2016. Wireless revenue grew 9.6 per cent and continued to be driven by smartphones and the exposure to the memory markets, where conditions were much more favourable than the overall memory market, in part because of strong bit content growth, and also improved performance of other device categories, including ASICs and non-optical sensors."
She added: "Compute revenue, on the other hand, declined 8.3 per cent, as it continues to be dragged down by a sluggish PC and tablet market and exposure to the memory segment."
The outlook for 2017 is better than 2016, as canned quotes by Gartner research VP Ganesh Ramamoorthy show: "The worst is now over with a positive outlook emerging for 2017 driven by inventory replenishment and increasing average selling prices (ASPs) in select markets, particularly commodity memory and application-specific standard products."
He says: "Memory market supply and demand have turned positive for memory vendors who are pushing ASPs higher to recover margins. ASP increases for application-specific standard products, discrete and analog chips and higher semiconductor content in key applications including the Internet of Things were the other key drivers for revenue increases."
The DRAM market accounts for nearly $10bn of the $14.1bn, by which Gartner has increased its revenue forecast for 2017. It says that smartphones and PCs will be slow-growth areas, but the industrial, automotive and storage markets will be faster-growing, although smaller in size than the smartphone and PC markets.
Gartner subscribers can get more data from the Semiconductor Forecast Database, Worldwide, 4Q16 Update report. ®