Revenue is vanity and profit is sanity. Right, Seagate?
Better be, hmmm. Earnings up despite falling revenues
In its second fiscal 2017 quarter, Seagate's profits rose even as it shipped fewer disk drives, through manufacturing cost reductions and increased component counts in high-capacity drives.
Second quarter revenues were $2.9bn, 2.9 per cent lower than the $2.98bn reported a year ago, and 3.5 per cent more than the prior quarter. Net income of $297m was 80 per cent up on $165m the year before, and 78 per cent higher than a quarter ago.
Prepped remarks by Steve Luczo, Seagate's chairman and CEO, said: "In the December quarter we achieved near record results in gross margin, cash flow, and profitability." Seagate said that it generated $656m in cash flow from operations, paid cash dividends of $188m, and repurchased 4.1 million ordinary shares for $147m in the quarter.
In the earnings call, Luczo said: "The drivers of our improving performance, particularly in the December quarter, are combination of market demand trends across our high-capacity storage solution portfolio, component cost optimisation within our storage products, and the structural cost improvements we are driving throughout our company, particularly within our manufacturing operations."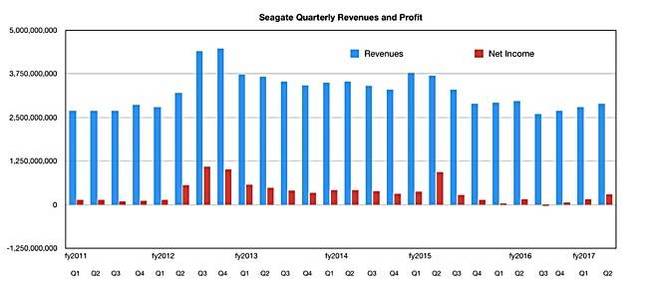 Click to enlarge
December quarter stats:
39.9 million disk units shipped
Average capacity per drive – 1.7TB, up 30 per cent year-over-year
68.2 exabytes disk capacity shipped

Third consecutive quarter of record exabyte shipments
Up approximately 13 per cent year-over-year

ASPs of $66 were sequentially flat and up 12 per cent year-over-year
The drive segment splits looked like this: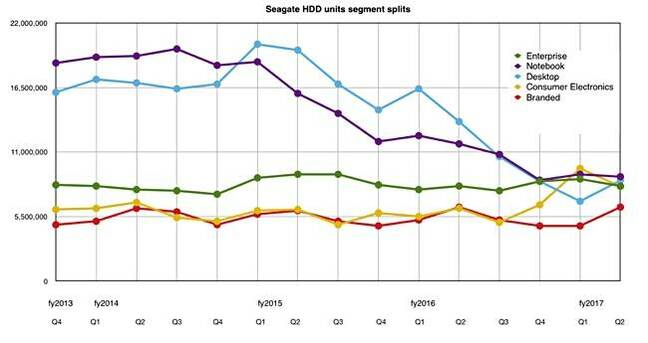 Click to enlarge
Against the overall pattern of declining unit ships we can immediately see a quarter-on-quater rise in desktop and branded disk sales. Although CE (consumer electronics) drives saw a quarterly fall, they are still higher than a year ago. Stifel MD Aaron Rakers said: "Seagate's results benefited from the ramp of the 1TB/platter 2.5-inch mobile and CE-focused HDDs."
There was strong sequential demand for higher capacity products in the consumer, surveillance, and NAS markets. CFO Dave Morton said: "We continue to drive our HDD product set sales towards our higher capacity products across our portfolio, benefiting both our revenue and margin results for the quarter."
Luczo added: "Our 8TB product leads the market in cost and performance and we are pleased with the ramp of our 10TB product in terms of quality, performance, and customer qualifications. For the last few quarters, our 12TB product has been with customers for evaluation and the feedback has been positive."
He also predicted the arrival of 16TB drives:
During the next 12 to 18 months, we expect the nearline market to be diversified in capacity points for different application workloads, with use cases from 2-4TB products for certain applications [and] up to 16TB for other use cases.
So we can look forward to a 16TB drive in the first half of 2018. Luczo even mentioned a 20TB drive in the earnings call.
Rakers reckons Western Digital has an 85 per cent to 90 per cent share of the 10TB helium-filled drive market, a technology Seagate was late in adopting, but could enter this quarter.
Morton referred to cost-reduction efforts, including manufacturing footprint reductions, saying: "We have improved our factory utilisation, reducing our manufacturing cost by approximately $200m year-over-year, operating expenses, excluding variable compensation have been reduced by approximately $300m year-over-year."
Luczo also mentioned Seagate's arrays and solid-state products, saying: "Our Cloud Systems and Silicon Group demonstrated sequential growth in the December quarter, with particular strength for our flash-based solutions." He did not provide any numbers.
Seagate's growth is being driven by high-capacity needs in enterprise, desktop and mobile disk markets. Luczo said: "We see growth in all those applications that require high capacity... going from 8 to 10 to 12 to 16 [TB], you're going from six to eight disk [platters], at least, on the nearline products and we do think there are opportunities for more heads and disks on desktop and notebook, as people need higher capacity as well."
Seagate can increase revenues as disk drive unit ships fall because it will put more heads and platters into the drives it ships.
Seagate's outlook for the third quarter is revenues of $2.7bn – they were $2.6bn a year ago. Luczo said: "We believe Seagate will achieve revenue growth in calendar 2017." Rakers comments: "This guide is based on expectations of stable demand with a seasonal sequential unit and Exabyte decline (units and capacity ship declining on average 9 per cent and 7 per cent sequentially over the past three years)."
Comment
Seagate execs are running a tight ship, balancing manufacturing capacity with lower overall demand and responding to increased per-drive capacity demand. The company is essentially a disk drive manufacturing mill with relatively tiny disk array and solid-state storage operations attached to it.
The drive arrays need development to compete with entrenched competition in the HPC and general on-premises enterprise array markets while the solid-state storage products are, compared to Seagate's disk drives, in a lamentable state. Rumours of an alliance with SK Hynix surfaced in December but nothing since has come to light. ®