President Donald Trump taken on by unlikely foe: Badass park rangers
Censorship efforts backfire on President Snowflake and team
---
Insecure
It started when the NPS retweeted a picture from a reporter of side-by-side photos of the crowds at President Obama and President Trump's inaugurations on the Washington Mall: the pictures clearly show a smaller turnout at Trump's.
What should have been no more than a blip on the administration's radar kicked off an extraordinary tussle, however, when the service was ordered to delete the tweet and was told by the White House not to post any more. It later tweeted an apology.
It quickly became clear that the president himself was enraged by reports of his lower inauguration turnout, which then led to the embarrassing spectacle of Trump's press secretary using his first conference to angrily claim that there were more than a million people at the event – a figure that media outlets felt obliged to point out was an obvious fabrication.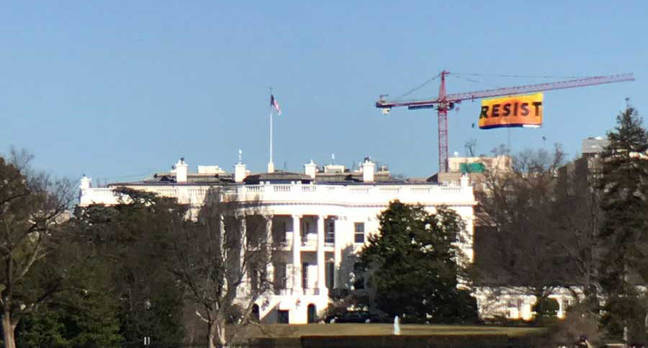 On Wednesday, Greenpeace activists used a crane near the White House to unfurl a Resist banner
The situation has neither slowed nor improved since then. President Trump has since signed a series of executive orders – some of which have an immediate impact on government, and some of which are little more than show business – that have stirred up animosity. And his officials have attempted to impose their will on government departments, which are skeptical at best.
BREAKING: Trump administration mandating EPA scientific studies, data undergo review by political staff before public release.

— The Associated Press (@AP) January 25, 2017
White House Calls Out SF Branch Office Of Dept. Of Defense For 'Inappropriate' Twitter Use https://t.co/3ITU8QzAId pic.twitter.com/1bSc3qjWkE

— SFist (@SFist) January 25, 2017
And while Twitter battles are objectively the most shallow and least impactful manifestation of a deeper tension within the US government, they are also the swiftest and most visible. The park rangers are just the beginning. ®