This article is more than 1 year old
Too early for champers? Quantum faces its first sales rise in a decade
If the next quarter goes their way, that is
Get the champagne ready; Quantum might be facing its first annual revenue increase in 10 years – if the next quarter goes to plan.
Quantum did as its preliminary 3Q17 statement said it would and showed third-quarter results significantly ahead from a year ago.
Revenues of $133.5m were up 8 per cent on the $128m a year ago and just a seasonal smidge less than the second quarter's $134.7m. The net income was $5m, better than the smack in the face with a wet fish that was the year-ago loss of $300k. It was also better than the second quarter's $3.8m.
The market segment splits (chart below) reveal a sequential fall in scale-out storage (StorNext) revenues; the opposite of Quantum's standard Q2-3 seasonal pattern.
Ignoring this, Quantum president and CEO Jon Gacek said: "On a year-over-year basis, we generated our 22nd consecutive quarter of scale-out tiered storage revenue growth and increased total revenue, data protection sales and overall profitability for the third straight quarter."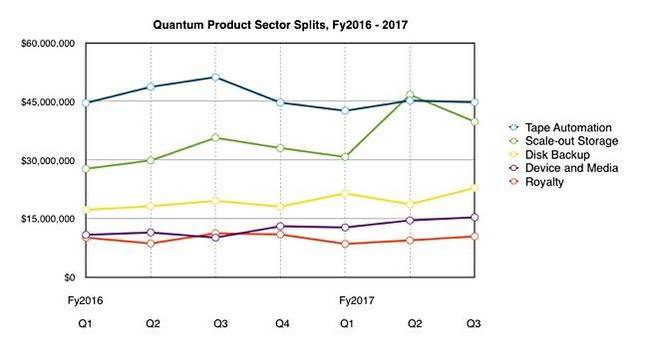 It expects fourth-quarter revenues to be between $120m and $125m, which compares to $120m a year ago. At the midpoint that would make for full fiscal 2017 revenues of $507m; they were $475.9m last year. This would be Quantum's first full fiscal year revenue increase for 10 years. So stick the champagne in the cooler, Quantum folks, and pray for great execution in the fourth quarter. ®