This article is more than 1 year old
WD Corp picks teeth after SanDisk dinner, seems pleased with fuller figure
Spinners boosted by SSD sales
+Comment Western Digital Corp, still digesting SanDisk, is selling more disk drives than arch-rival Seagate and appears to be doing a booming flash business as well, for now.
Second quarter revenues totalled $4.9bn, 48 per cent up on a year ago - but then WDC did buy SanDisk and its flash business in between, and 4 per cent up sequentially, but then Q2 is seasonally often higher than the first quarter.
Profits (net income) were $235m, not so good as the $251m reported a year ago, but much better than last quarter's loss of $366m. Integrating HGST and SanDisk into WD is taking its toll.
The company shipped 44.8 million disk drives in the quarter, 9.9 per cent lower than a year ago and 5.7 per cent fewer than in the first quarter.
CEO Steve Milligan talked of a "strong financial performance in the December quarter enabled by excellent operational execution by our team in a favourable market environment," and "healthy demand for capacity enterprise hard drives, all NAND based products and hard drives in client applications. We also achieved targeted cost and efficiency improvements and improved our liquidity position with continued strong cash flow performance."
WDC generated $1.1bn in cash from ops during the quarter, finishing with around $5.2bn of total cash and cash equivalents, and available-for-sale securities – sounds like a bank.
Here is a quarterly revenue and net income chart: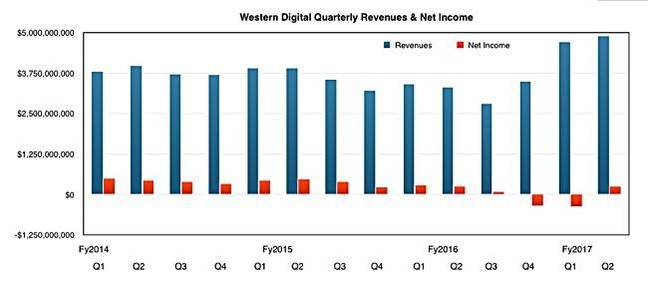 Enlarge by clicking the chart
The quarterly disk drive segment splits look like this: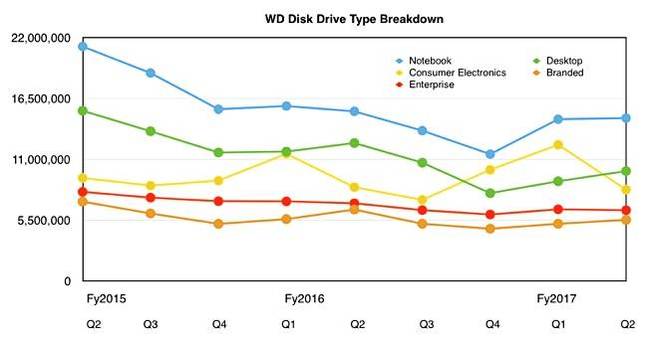 The splits chart shows a sequential rise in desktop drives, a strong fall in consumer electronics drives (CE) while notebook units held up, and branded drive shipments rose slightly. The CE unit ship drop contributed most to the lower quarterly total drive units number.
However WD made up for this with flash shipments. In the earnings call COO Mike Cordano said: "Our revenue from client devices increased sequentially primarily driven by client SSDs and embedded products, as revenue synergies from the SanDisk acquisition benefited us further in a seasonally strong quarter. Increasing storage capacities in mobile phones and market preference for client SSDs are long-term tailwinds for this portion of our business."
The high demand for NAND versus NAND foundry capacity meant prices were high, which was good from the revenue and gross margin perspective.
During the earnings call, Milligan said: "The transition to 3D technology continues as planned with the ramp of our 64-layer architecture. We commenced retail shipments and OEM sampling of our 64-layer products in the December quarter. … We fully expect our leadership in 2D NAND to extend into 3D NAND. In 2017 and beyond, you will see the deployment of our 64-layer 3D NAND across our product portfolio spanning removable embedded client SSD and enterprise SSD offerings."
Sampling of enterprise 64-bit 3D NAND drive products is expected in 2017.
He mentioned NAND foundry partner Toshiba's troubles but didn't directly mention the possible part-sale of Toshiba's NAND fab operation. It was all quite reassuring:
Our flash joint venture partner is facing challenges. We have been in regular communication with them over the last several weeks. We are confident that their semiconductor memory business remains healthy and strategically viable. Under any circumstance we will act to protect Western Digital's interest and work to ensure that we maintain the leadership position of our joint venture.
Enterprise data centre demand for disk drives focussed on capacity, with WD doing well with its 10TB helium-filled drive, a category in which Seagate is still in the qualification phase due to its late entry into the helium-filled drive technology area. Morton sees the annual petabyte growth rate in this high-cap drive area to be 40 per cent a year.
WD sees the next significant disk drive recording technology shift happening in 2019. That is heat-assisted magnetic recording (HAMR).
In the CE and non-enterprise (branded) disk drive business analyst Katy Huberty asked why Seagate's "business grew 20 per cent sequentially and [WD's] business declined 20 per cent?" Morton said Seagate was only now catching up with WD in the surveillance drive area.
+Comment
All-in-all WDC is operating in a favourable market and has more cost-saving synergies to extract from its HGST and SanDisk integration. We'll see how it does selling 64-bit 3D NAND against Samsung which leads the market in this area. It's comfortably ahead of Seagate with disk drive units – 44.8 million drives versus Seagate's 39.9 million, and should continue to grow faster than Seagate. Absent Seagate diving more strongly into the flash business than WDC has left it behind pretty much for good.
WDC expects a a $4.55bn revenue number in its next quarter; it was $3.3bn a year ago. ®