This article is more than 1 year old
Flashy Intel sees the XPoint of solid state
NAND revenues top $800m/quarter with XPOint forecast to be a 2018 revenue driver
Intel made $816m from flash memory products in the final 2016 quarter and sees XPoint contributing 10 per cent of revenues in 2018.
This is minuscule compared to the Intel's $16.4bn revenues for the quarter but a sizeable chunk of change in the flash business. Its Non-Volatile Memory Solutions Group saw revenues up 25 per cent year on year to $654m.
One reason NAND revenues jumped is that demand is outpacing supply, as Western Digital has reported.
Stifel Nicolaus analyst Aaron Raker has made a chart showing Intel's quarterly flash storage revenues and the Q4 2016 jump is larger than previous increases. He says Intel's NVM Group lost $91m in the quarter, which compares to a $24m profit a year ago.
The reason is that Intel is investing heavily in 3D NAND and also in 3D XPoint memory. It is currently working with 48-layer 3D NAND and this, according to Rakers, "has a 15 per cent cost value over the competition from a density perspective with expectations for its second generation expected to be higher".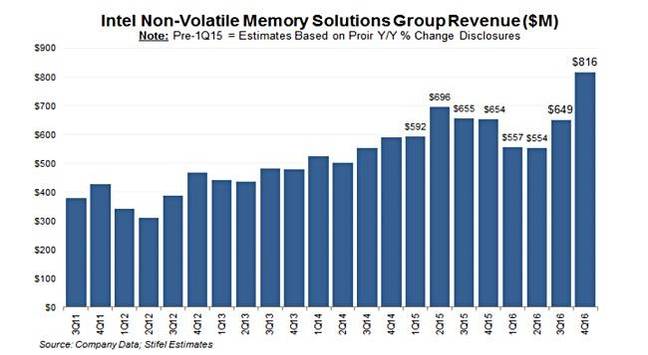 Stifel view of Intel quarterly flash revenues.
In the earnings call CEO Brian Krzanich said: "This was an investment year for the Memory business … We are now shipping 3D NAND from our Fab 68 and we just qualified our first 3D XPoint base Optane SSDs, which we expect to ship for revenue in the first quarter. And our 3D XPoint memory DIMM, [is] sampling to data centre customers."
Krzanich said this about XPoint revenues: "We've started to ship DIMM samples to the big cloud service guys. Those are targeted for 2018 revenue shipments on an SSD basis. We'll start shipping for revenue this quarter. And if you take a look at the full year, I think the estimate is it's around 10 per cent of our total revenue is 3D XPoint."
After 2018 the XPoint perecentage contribution could be higher still.
He sees XPoint as highly significant: "3D XPoint, will really re-architect memory and storage and we'll create a new market in our mind and we believe we are unique in having that technology."
+Comment
Well Brian, actually no. Your IMTF partner Micron has the technology too. Krzanich knows this perfectly well, so why, in the context of Intel's data centre division earnings, is he saying that Intel is unique in having the technology? Have Intel and Micron an agreement about the direction of their marketing efforts?
Krzanich added: "We believe it can re-architect how big data applications, artificial intelligence applications where you want large amounts of data being brought up as close to the compute as you can, will really transform not only the architecture of those systems but the performance of those systems.
"And we've demonstrated on stage, even on client systems, using these types of SSDs on an equal price you can get 5x to 7x performance improvement using 3D XPoint as a large memory storage combination. … 3D XPoint, should dramatically – that will drive the growth for us as we go through the rest of this decade."
Hmm, quite a lot is resting on the shoulders on Intel's XPoint technology and process people. Let's hope they get it right or it could be 3D exPoint. ®