This article is more than 1 year old
'Treat your developers like creative workers – or watch them leave'
Give them problems to solve, not solutions to bodge in, says Twilio CEO Jeff Lawson
Twilio CEO Jeff Lawson believes companies should let their software developers off leash.
"Writing code is a creative endeavor, and not a lot of companies fully understand that," said Lawson in an interview with The Register. "A lot of people think of developers as math nerds who want sit in a corner, eat Doritos, and be told what to build."
Lawson extended an invitation to The Register to tour Twilio's new San Francisco headquarters, which sport a Tardis, and to see software development as a creative activity, in the form of Tweak Week.
The annual corporate event, held for the seventh time last week, amounts to a company-wide hackathon in which Twilio's developers and other employees have the opportunity to work on team-based projects that improve operations or products.
Some of the projects being shown off were whimsical, like a button that sends Slack notifications when takeout food gets delivered. Others were more practical, like optimized video delivery infrastructure.
Lawson said the event involves people from all around the company who want to explore new ideas that affect the communication service company and its customers. One of his favorites, he said, was a few years ago, when the Twilio.org team had an idea for an out-of-the-box, open-source communications toolkit for disaster response management.
The Rapid Response Toolkit, he said, is available on GitHub and can be easily launched through a service provider like Heroku to deliver scalable conference calling, text messaging, and related services to facilitate communication during a crisis – which could include any time during the next four years.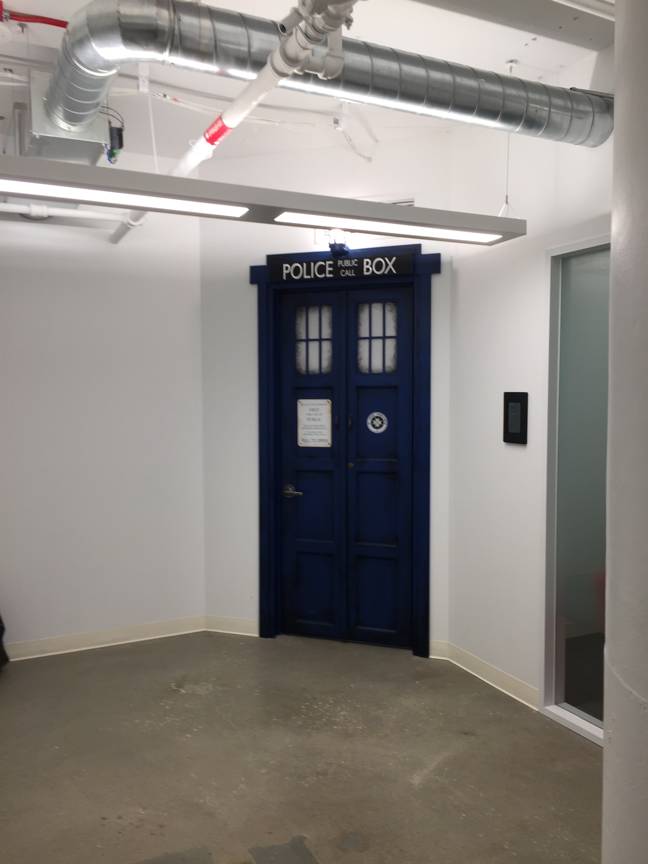 Twilio's Tardis
According to Lawson, the best developers don't want to be handed a solution to implement. "Great developers, I think, want to be handed the problem instead," he said.
Lawson recounted his experience starting Versity.com, his first company, which he described as an academic community for college students. He said his business partner at the time was non-technical and often came to him with operational problems that Lawson ended up solving through software.
"That led to 'Ask your developer'," said Lawson, referring to the ad copy on the billboards Twilio has placed in various parts of the San Francisco Bay Area.
Lawson's view of developers extends beyond the traditional notion of a programmer. "There are probably more people who know how to program using Excel than all the other programming languages combined," he said. "There's a lot of power to this notion that people who understand logical constructs can solve problems."
Among companies that tell their developers what to do rather than involving them in the problem-solving process, Lawson believes things won't go well.
"Companies need to treat their developers as creative workers and give them a lot of opportunities to flex their creative muscles," said he. "If they don't, the developers will leave for another company that does or start their own, because that's a viable option."
"As a developer, you can change the world with a text editor," said Lawson. "That, to me, is such an exhilarating concept and it's why I think you see so many people learning to code." ®