Comment Supermicro will have more Skylake CPU server motherboard products out faster than competitors because its engineering smarts better equip it for Skylake fastening complexities.
Skylake is Intel's sixth-generation Core processor, built on a 14nm process, and succeeds the Broadwell micro-architecture. Intel says it will be branded as Xeon processor E3 v5 for single-socket server and workstation systems. The Skylake CPU will deliver performance and power-efficiency improvements over Broadwell micro-architecture.
Supermicro will start seeding its customers with early Skylake-based X11 series product this quarter with a full launch in its September quarter. Production ramping, using the Purley platform, will begin in March, with some shipments in the June quarter.
Stifel analyst and MD Aaron Rakers says he thinks there will be "50+ motherboard designs available at launch and significantly more than its competitors".
Skylake CPUs have a more than 80 per cent increase in (LGA 3647) socket pins compared to previous LGA 2011 sockets. The LGA 2011 socket uses dual latches to fasten the CPU. These go away with the heavier and physically larger LGA 3647 assembly, which has the CPU affixed to a heatsink, the CPU-heatsink unit plugged into the sockets using guide pins, and then fastened in place with screws.
Also "the new Skylake platforms will expand power consumption (up to 205W) and increasing PCIe lanes from 40 to 48 – this results in new motherboard layouts." Rakers says the complexity of all this has caused some Supermicro customers, who previously took Supermicro components and built their own systems, to now take full systems from Supermicro.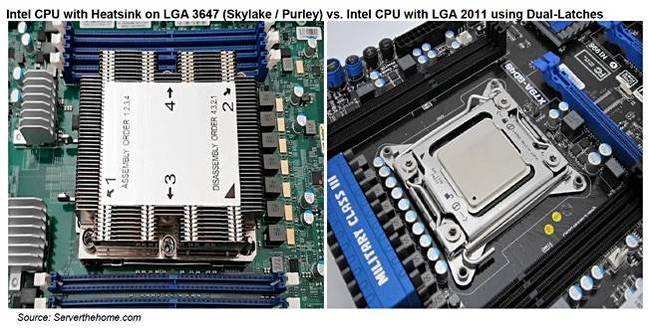 Because Skylake CPUs are physically larger than existing server CPUs then multi-socket servers will likely increase in physical size over current products. ®