You better layer up, Micron's working on next-generation XPoint
New memory, quad-level cell flash, and increased layering
Micron is working on two next-generation XPoint products, a new memory, and extending 3D flash beyond 64 layers.
At an analysts' day it talked about its 3D NAND technology development. It is shipping its gen-1 3D NAND with 32 layers and 384Gb die capacity and moving towards its second generation with 64 layers and 256Gb capacity in a 59mm2 die size. More than half its bit output in the second half of 2016 went into 3D NAND, which means planar, 2D NAND is now falling away.
It believes its way of doing 3D NAND, with a CMOS logic layer underneath the NAND cell layers makes its 32-layer technology competitive with 48-layer 3D NAND from other suppliers. This, we assume, means its 64-layer 3D NAND will be better (faster/cheaper/smaller?) than their competitors'.
Micron is starting to develop 64-layer die manufacturing with output shipping starting by the end of this year. Stifel analyst and MD Aaron Rakers says the 64-layer die size looks to be 25 per cent smaller than competing product, according to Micron. A slide said its die size meant "~4.3 Gb/mm2 (>25% more die per wafer relative to competitor's 64 Tier 3D NAND)".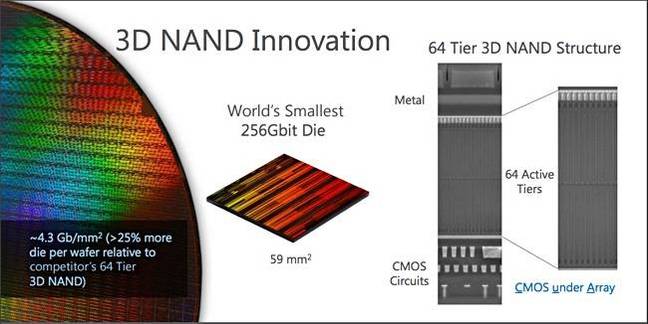 So you should be able to fit more of them in an SSD, PCIe or M.2 flash drive and have a higher capacity device. Storage BU chief Darren Thomas talked about 8TB 2.5-inch SSDs.
Interestingly, WD has claimed its BICS3 64-layer 3D NAND (256Gb capacity) has the smallest die size in the industry, although no dimension data has been released so it looks as though Micron has beaten WD in this area.
The 64-layer flash from Micron will be more than 30 per cent less costly to produce than Micron's gen-1 3D NAND. It also says its TLC (3bits/cell) 3D NAND performance is better than MLC (2bits/cell) performance on its planar (2D) flash. This emphasises TLC suitability for enterprise flash drive use in terms of speed and endurance.
During 2017 Micron will work on developing QLC (quad-level cell or 4bits/cell flash) which has a third more capacity than TLC flash in terms of bits per cell. However, QLC flash will have lower endurance (write cycles essentially) and slower access than TLC flash, making it only suitable for read-intensive applications.
If its cost is low enough and endurance good enough, meaning both longevity and write cycles such as a few hundred, then it could enable flash to be used for archive applications with low read rates but needing fast data access, faster than tape and disk. We could be looking at making realtime analysis of archival data more affordable.
Toshiba and WD also have a focus on QLC flash, which gives us a hint that we might hope to see QLC drives appear in 2018.
Micron will develop its gen-3 3D NAND and introduce its manufacture in the second half of 2017. We might anticipate 96 or 128-layer products, with cost/bit reductions over the 64-layer, gen-2 product. This indicates meaningful shipments could start in 2018.
Micron says it is also working on 3D XPoint market enablement and expects to see early market adoption of its QuantX product in its fiscal 2017. The next two generations of XPoint are in development. As current XPoint is 2 layers we expect that gen-2 will be 4-layer and gen-3 either 8 or 16-layer.
The company also said: "New high performance memories [are] under development," which we took to mean not DRAM and not XPoint, as this slide indicates.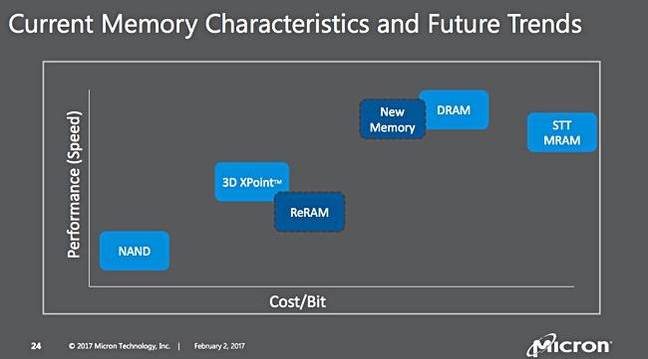 It sees:
Growing demand for in-memory database apps
Persistent memory (NVDIMM) accelerating database and other applications
More diverse workloads driving need for higher performance memory
Data moving closer to compute
In El Reg's view, Micron is developing its flash technology to bring down the cost of SSD storage for secondary data and hammer coffin lid nails home for primary data storage on disk. It is also working to ensure XPoint has a home in the DRAM-NAND price/performance gap as well as developing new memory (DRAM equivalent/replacement) using undisclosed technology which is not Resistive RAM (ReRAM).
The semiconductor incursion into storage is growing in strength and depth. If it can provide affordable and reliable bulk capacity storage then, quite simply, disk technology will go the way of tape technology over the next couple of decades. ®