This article is more than 1 year old
White-knight investors or capitalist cannibals? VIEX vexes Quantum
Board takeover still on the cards
In another wonderful example of the US capitalist system's ability to enable businesses to eat each other for short-term shareholder reward, an activist investor is looking to take over Quantum's board and restore shareholder value.
VIEX Capital Advisors takes a stake in small cap companies that have under-performed on the stock market, takes over the board in a proxy war, and restores shareholder value. It claims: "Founder and portfolio manager Eric Singer brings decades of intensive investment research and successful M&A transaction experience. He has directly held nine board seats in his career in addition to making numerous successful Board placements and building a record of winning proxy battles."
In April 2016 it was revealed that VIEX held 9.9 per cent of Quantum shares and told Quantum's board it had destroyed shareholder value and should install VIEX directors to fix this.
In June it nominated five directors for election at Quantum's next AGM, with Singer saying: "VIEX thinks that the continuing destruction of shareholder value on the Quantum Board's watch is indefensible. We strongly believe that our nominees possess the relevant skills and fresh perspectives desperately needed to address the clear performance issues and capital structure challenges facing Quantum, and to oversee a comprehensive, independent and credible strategic assessment of the business with a singular focus on maximising shareholder value. We look forward to the upcoming annual meeting and to presenting a compelling case for change to Quantum's long-suffering shareholders."
The nominees were Mark Bonney, John Mutch, Raghavendra Rau, Khurram Sheik and Eric Singer himself.
In December 2016 Quantum gave board observer rights to John Mutch and Ragha Rau for VIEX, and VIEX agreed standstill provisions until the end of 2016.
It did no good to try and placate VIEX as, yesterday, it again nominated five directors, this time for election at Quantum's AGM on March 31.
Quantum states: "Our board and management have engaged in numerous discussions with VIEX over the past several months and have provided board observer rights to representatives of VIEX so they could participate in board meetings and deliberations."
We have also conveyed to VIEX that we are open to making substantial changes to the composition of the board, so that representatives designated by VIEX and new, independent directors would together constitute a majority of the board. VIEX has rejected these proposals.

Although we are open to VIEX having meaningful representation on our board, we do not believe it would be in the best interests of Quantum and its stockholders or consistent with the board's fiduciary duty to allow VIEX — which owns 11 per cent of the company's shares — to control our board and to dictate our business strategy without paying a proper premium to all remaining stockholders.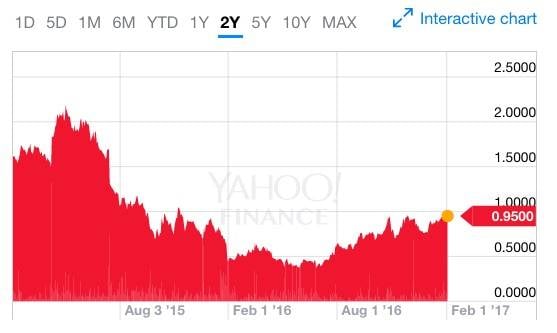 Quantum's two-year stock price history from Yahoo!
Quantum says it "is in the midst of executing a well-defined strategic plan, focused on growing our business in scale-out tiered storage and data protection solutions. Although we recognise that the overall storage market continues to present challenges to Quantum and the industry generally, our momentum has been evident in our most recent three fiscal quarters, with year-over-year growth in both revenue and profitability, the $170 million financing package we secured and strong prospects for continued improvement in our business and financial performance."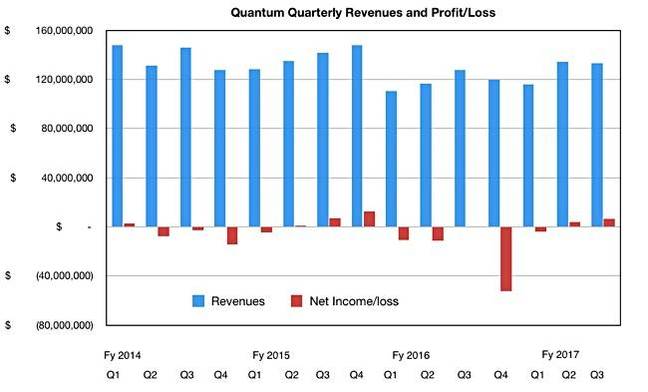 Quantum quarterly revenue and profit trends to January 2017
Its business results bear this claim out.
The company says it intends to file a preliminary proxy statement with the Securities Exchange Commission and accompanying WHITE proxy card, which will include the company's recommended slate of director nominees and more detail on the board's position on VIEX's proposed nominees.
Comment
We have no idea what steps VIEX proposes Quantum should take to increase shareholder value from the current $0.95 but suspect it would entail asset stripping and selling, with shareholders exchanging a short-term value rise for a long-term value increase, based on Quantum's recent quarterly performance.
On the other hand, an Institutional Investor article says: "Key to Singer's strategy is getting companies to focus on their strengths and maximise value for all shareholders through operating improvements as well as strategic mergers and acquisitions." So maybe this activist investor really is a white knight and not a hungry capitalist cannibal whose teeth are dripping with blood. ®