This article is more than 1 year old
Pimp my racks: Scale-out filer startup Qumulo bangs up its boxen, er, '4U'
Neat SSD for disk substitution adds both disk and flash capacity
Whacking up high-end capacity by 71 per cent takes scale-out filer startup Qumulo into 3PB per rack territory, in its bid to win enterprise business.
Qumulo has taken its top-end QC260 box, exchanged nine of its SSDs for ten disk drives, and so upped raw capacity to 360TB. The box is a 4U enclosure and, in QC260 form, it has 26 x 10TB disk drives and 13 x 480GB SSDs inside it, meaning 6,240GB of flash capacity.
The QC360 version has just 4 x 1.6TB SSDs and 36 x 10TB disk drives, meaning its total flash capacity is 6,400GB. As SSD capacity goes higher still, with 64-layer, 3D NAND SSDs coming, suggesting 8TB and above capacities, disk drives head into 12TB, 14TB and beyond territory, then Qumulo can substitute components to up capacity, or pull off the same trick again and have one SSD tomorrow do the work of four today. Or so it claims.
Here's a table showing its QC hardware box specifications: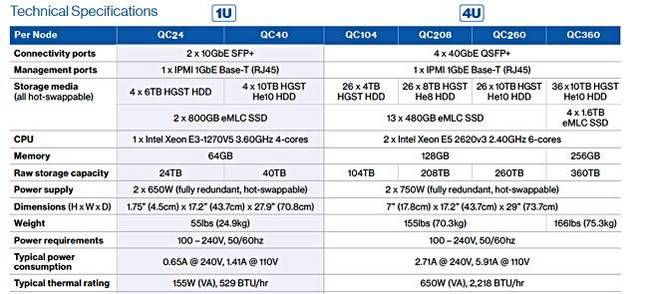 Qumulo hardware datasheet
The company says it has also qualified some of HPE's 2U Apollo servers to run its Core software so customers are not locked into Qumulo's own hardware.
Qumulo's Core software supports both file and object access. The company bangs out updates to this software every two weeks or so, and rolls up these incremental updates into point releases every so often. V2.5 came along last November, with snapshots, erasure coding, throughput analytics and metadata caching on SSDs.
We now have v2.6 with what Qumulo calls machine intelligent quotas, which has been been implemented as part of the filesystem, instead of being layered on top of it.
In our understanding we can envisage filesystem resource consumers, such as users, projects or applications. Such entities can have resources, such as buckets of capacity and directories, applied to them. Directories can be moved between these entities, and quotas enforced, in real time.
Talking to Qumulo's product management director Ben Gitenstein we get a picture of Qumulo positioning itself as the powerful, simple to use, enterprise-class scale-out filer. We've reflected this view in an infographic chart which shows our interpretation of this: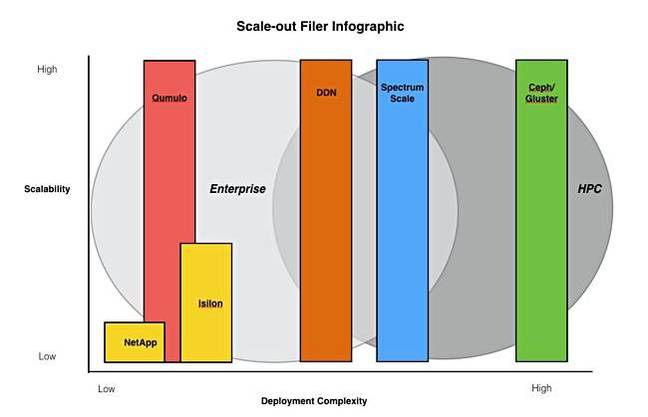 The scale-out filer product space has an all-flash Isilon coming as well as file-access extensions to Dell's Xtremio all-flash hardware. And then DDN introduces enhanced products at a steady lick too. We're being set up for a contest between all-flash high performance and hybrid flash/disk optimised performance/capacity products. Life is gonna to be full of fun for scale-out filer aficionados. ®