This article is more than 1 year old
Cisco polishes HALO, flashes enlarged HyperFlex
New hyperconverged pair
Cisco has announced two all-flash HyperFlex systems with an up to sixfold performance improvement.
HyperFlex is Cisco's hyper-converged* infrastructure appliance (HCIA) offering, based on OEM'd Springpath HALO software, with Cisco's UCS server and Nexus networking components. These are, were, hybrid flash and disk systems.
There are now HyperFlex 220c and 240c M4 all-flash nodes, both with 40Gbps networking. There can be three or more such nodes integrated into a single system with a pair of UCS 6200 or 6300 Series fabric interconnects.
The systems have Xeon E-2600 v4 CPUs with up to 16 cores per socket, up to 1.5TB of DDR4 DRAM, and a 12Gbps SAS network scheme. The nodes have a Cisco Virtual Interface Card (VIC) 1227 and have vSphere ESXi 6.0 software pre-installed.
Here's a table showing how the HX220c and HX240c hybrid and flash configs compare:
|   | 220c hybrid | 220c all-flash | 240c hybrid | 240c all-flash |
| --- | --- | --- | --- | --- |
| Rack units | 1U | 1U | 2U | 2U |
| Boot drives | 2 x SD Card | 2 x SD Card | 2 x SD Card | 2 x SD Card |
| Data logging | 120GB SSD | 120GB SSD | 120GB SSD | 120GB SSD |
| Write caching/logging | 400GB SSD | 400GB SSD | 1.6TB SSD | 400GB SSD |
| Capacity layer | to 6 x 1.2TB 10K SAS disks | to 6 x 960GB or 3.84TB SSDs | to 23 x 1.2TB 10K SAS disks | to 10 x 960GB or 3.8TB SSDs |
| Total capacity | 7.2TB | 22.8TB | 27.6TB | 38TB |
Cisco blogs: "With the new HyperFlex All Flash nodes, coupled with 3rd Generation 40 Gbit/s UCS fabric networking, customers can expect blazing fast performance with up to 6X IOPS throughput and 80 per cent reduction in latency."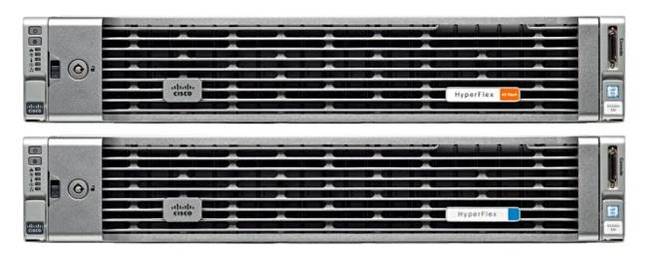 Cisco HyperFlex HX240c hardware. The all-flash version is on top.
The data sheet [PDF] states: "The HX240c M4 and HX240c M4 All Flash Nodes can be deployed with various Cisco UCS B-Series Blade Servers and C-Series Rack Servers to create a hybrid cluster."
Comment
El Reg imagines that all HCIA hardware vendors will move to include all-flash configurations in their product ranges pretty damn quick. This market is so hot no supplier can countenance having a significant performance disadvantage for long.
You can check out an HX220c datasheet here and an HX240c datasheet here. ®
* Still not 100 per cent on what hyperconvergence means? Here's a primer on hyperconvergence to help you out.