Kaminario pumps up K2 all-flash array processor speed and SSD capacity
Faster access to more data with gen-6 refresh
---
Kaminario has more than doubled array capacity and speed with the sixth generation of its K2 all-flash array, mainly by using higher capacity SSDs and faster controller processors. It's also improved compression and its storage assurance program.
A K2 array is composed from one to four K-Blocks, each having two active:active controllers and up to four storage shelves. Kaminario says the K2 array can scale up by adding storage shelves to a K-Block, and scale out by adding K-Blocks. "The array can linearly grow the number of CPU cores and independently grow solid-state capacity," they say.
With 24 SSDs per shelf, a K-Block can have up to 96 SSDs and an array can have 480.
Kaminario says there is a seamless upgrade path to gen-6 K2, and existing K2 customers can add gen-6 K-Blocks to existing gen-5 deployments without disruption.
The gen-6 K2 uses Supermicro-based controllers fitted with Intel Broadwell processors, which makes them twice as fast as the previous gen-5.5 array, with controller IOPS being raised from 250,000 to 370,000.
The maximum SSD capacity jumps to 3.84TB from its previous 1.92TB maximum, with consequent upward increases in per-shelf, per-K-Block and per-array raw and usable capacities:
| K2 Generations | Gen 5 | Gen 5.5 | Gen 6 |
| --- | --- | --- | --- |
| NAND | 2D MLC | 3D TLC | 3D TLC |
| Latency | 0.35ms | 0.35ms | 0.35ms |
| SSD Capacity | 400GB, 800GB | 480GB, 960GB, 1.92TB | 480GB, 960GB, 1.982TB, 3.84TB |
| Drives/Shelf | 24 | 24 | 24 |
| Max Raw Shelf Capacity | 19.2TB | 46.1TB | 92.2TB |
| Max Raw K-Block Capacity | 76.8TB | 184.4TB | 368.6TB |
| Usable K-Block Capacity | c180TB | c360TB | c1PB |
| Usable Array Capacity | c720TB | c1.44PB | c4PB |
| Controller IOPS | to 250,000 | to 250,000 | to 370,000 |
| Bandwidth | to 3.2GBps | to 3.2GBps | to 6.2GBps |
| Average $/usable GB | c$2/GB | c$1/GB | ? |
| Max K-Blocks/array | 4 | 4 | 4 |
Kaminario says its compression improvement should deliver a more than 25 per cent overall data reduction increase in most use cases. It provides a guaranteed data reduction ratio of 4:1, and, if customers are not able to achieve this during the life of the array, it will provide additional capacity at no extra charge.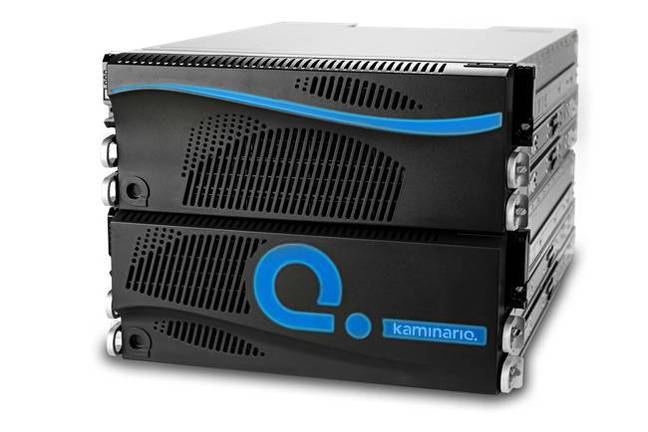 It says: "Utilizing VisionOS SW modules, additional processing units can be leveraged to offload compression operations from the controllers' CPUs achieving greater capacity efficiencies."
Here is Kaminario's view of K2 gen-6 scalability:
| Configuration | Effective Capacity | IOPS | Throughput |
| --- | --- | --- | --- |
| 1 K-Block | 30TB - 1PB | 370,000 | 6.2GBps |
| 2 K-Blocks | 60TB - 2PB | 740,000 | 12.4GBps |
| 3 K-Blocks | 90TB - 3PB | 1,100,00 | 18.4GBps |
| 4 K-Blocks | 120TB - 4PB | 1,500,000 | 25GBps |
In comparison, NetApp's AFF A700 can have up to 5,760 SSDs, while the entry-level A200 can have up to 576. This A200 can have from two to eight nodes (high-availability controller pairs) in a SAN or NAS cluster. Thus NetApp might position K2, with its one to four K-Blocks, as less powerful than its AFF line.
Pure Storage's FlashArray m70 scales from 42TB to 512TB raw capacity, up to 1.5PB effective, and also has 370,000 IOPS. That seems to be a more directly comparable product.
Kaminario has engineered the gen-6 array to accept incoming technology advances:
The existing 16Gbps Fibre Channel can go to 32Gbps via a transceiver change
The controllers have front-loading, hot-swappable PCIe and NVMe slots for NVMe SSDs and storage-class memory (SCM) devices such as Intel 3D Xpoint,
The array's VisionOS can use SCM-class memory modules like NVDIMM that can sustain power failures without losing data.
Chief architect Doron Tal says: "With hardware technologies like NVMe and NVMe Fabrics rapidly emerging, we will be positioned to lead the industry, introducing enterprise-ready solutions and leveraging the most modern hardware technologies available." The company has previously talked about moving to an NVMe shelf design.
Supermicro's Don Clegg, VP for marketing and business development, points out that the NVMe slots should enable the array's metadata handling to be accelerated.
Kaminario recently gained $75m in funding with the money being targeted at both go-to-market sand engineering developments. Its sales channel will now have good reason to go knocking on the doors of both existing and prospective customers with this more powerful and high-capacity product.
Check out a PDF datasheet here. Get Foresight assurance details here. The gen-6 K2 is available now but we haven't seen any pricing information. ®