This article is more than 1 year old
IBM's Marissa Mayer moment: Staff ordered to work in one of 6 main offices – or face the axe
Marketing told to sit 'shoulder to shoulder' or else
Exclusive IBM is cracking down on remote workers, ordering unlucky employees to either come into one of six main offices and work "shoulder to shoulder" – or leave for good.
In a confidential video message to staff seen by The Register on Tuesday, chief marketing officer Michelle Peluso told her US marketing troops they must work at "a smaller set of locations" if they want to continue with the company. Staffers have 30 days to decide whether to stay or go.
This means affected IBMers who telecommute, work at a smaller district office, or otherwise work separately from their team, will now have just a few weeks to either quit their jobs, or commit to moving to another part of America. The company's employee badge system will be used to ensure people do come into the office rather than stealthily remain remote workers.
According to sources, the six "strategic" offices US marketing staff must work from are in: Austin, Texas; San Francisco, California; New York City, New York; Cambridge, Massachusetts; Atlanta, Georgia; and Raleigh, North Carolina. El Reg understands that employees will not get to choose a nearby office, but will instead be assigned a location based on where their team is predominantly situated. The first wave of workers were informed of the changes on Monday. The next wave will be instructed in early March, we're told.
So, for example, if you live and work somewhere in New York state but your team is primarily based in California, you'll have to move across the country to the West Coast, or walk the plank. If you do up sticks, you can expect a small moving allowance and no guarantee of a pay rise if you shift to a more expensive city.
A spokesperson for IBM was not available to comment.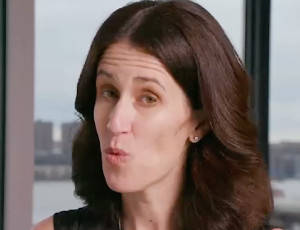 On cam ... Michelle Peluso breaks the news to staff
Peluso pitched the move not as a cost-slashing or staff-cutting measure, but as a way to improve the performance of Big Blue's marketing machine so it can take on Microsoft and Silicon Valley rivals. In the internal staff video, she reiterated "the need, that I felt, to bring our marketers into a smaller set of locations." Peluso continued:
I've spent a lot of time thinking about this, and a lot of time working with teams from real-estate, finance, HR, operations, the geo leaders, the marketing leaders – and starting with the US, it's really time for us to start bringing our teams together, more shoulder to shoulder.

There is only one recipe I know for success, particularly when we are in as much of a battle with Microsoft and the West Coast companies as we are, and that is by bringing great people with the right skills, give them the right tools, give them a mission, make sure they can analyze their results, put them in really creative inspiring locations and set them free. That's the recipe I have always relied on and counted on, and I know if we do that we can achieve extraordinary things.

It is not about any given individual, and I want to be crystal clear: there are so many amazingly productive people who don't work in one of these six locations, but there is something about a team being more powerful, more impactful, more creative, and frankly hopefully having more fun when they are shoulder to shoulder. Bringing people together creates its own X Factor.
Peluso, previously CEO of posh frock flogger Gilt.com and before that marketing supremo at Citi, added:
I know this is hard. I know that many of you are going to be having conversations with your family, friends, with your partners, and this is not an easy thing to do for you, or for IBM. But we have gotten to a place where we're excited about the path forward.
While the move-or-leave mandate is right now being applied to IBM's US marketing operation, it is understood Big Blue will extend the policy to other departments and countries, as the business computing giant shaves costs and sheds jobs to improve its bottom line.
The move is eerily reminiscent of Marissa Mayer's fateful ban on remote workers shortly after taking over as CEO of Yahoo! We are told that IBMers are embracing the changes with about the same degree of enthusiasm as those at the Purple Palace, seeing the move as little more than a transparent effort to cut costs at the expense of remote workers.
IBM has spent the past couple of years undertaking a massive turnaround effort to transition from its servers and services business model to one focused more on cloud, security, analytics, and mobile. That turnaround has brought with it thousands of job cuts.
Meanwhile, IBM is heading toward its 20th consecutive quarter of declining revenue. ®