This article is more than 1 year old
Why software engineers should ditch Silicon Valley for Austin
And it has nothing to do with South by Southwest
Software engineers should ditch their coveted Silicon Valley jobs and look for opportunities in Austin, San Diego or Seattle.
That's according to recruitment company Hired, which looked at the salaries for 260,000 jobs in cities across the US and the world and accounted for the cost of living in those cities.
So while people living in San Francisco (really the Bay Area) are still earning the most – on average $134,000 – they are actually at the bottom of the pile when it comes to how much money they have in their pockets.
At the top of the pile sits Austin, Texas, where the average wage is $114,000 but is equivalent to $198,000 in San Francisco thanks to the much lower cost of housing, food, travel, taxes and so on (data from Numbeo).
Following that logic, even the most poorly paid software engineer in Melbourne, Australia (average: $83,000) is still doing better than Bay Area bods, making an equivalent of $150,000.
You needn't even leave California and enter Trump's America to become better off, claims Hired. Jobs in San Diego and Los Angeles pay an equivalent of $179,000 and $174,000.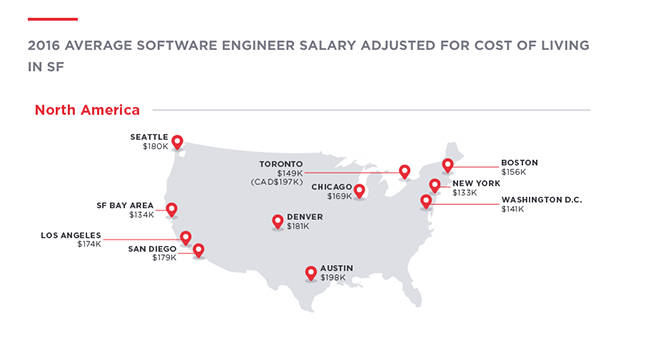 "San Francisco's rising prices continue to make it an expensive option," the analysis concludes, "even when compared to other historically pricey US cities. When you adjust for cost of living, the average software engineer salaries in New York and Los Angeles have seen an 8 per cent and 14 per cent increase in their purchasing power relative to San Francisco over the last year."
Of course, this is all well and good but the analysis doesn't appear to have accounted for quantity of jobs, or career prospects. San Francisco and Silicon Valley remain the biggest hub for software engineer jobs, and most of the big tech companies are based there.
Would you rather make slightly less and have Google on your CV, or make a little more and have to explain why that coding job at Denver's answer to YouTube makes you a perfect candidate for your next position? ®