This article is more than 1 year old
Big blues: IBM's remote-worker crackdown is company-wide, including its engineers
Not just marketing – Software and Systems must work from city hubs, too
Exclusive IBM is forcing more than just its US marketing staff to move to a handful of regional hubs. The crackdown on remote workers and smaller offices also hits engineers and other staffers in America and Europe.
Following The Register's exclusive report that Big Blue will demand marketers work at one of six "strategic" US locations – locations chosen for them by IBM – sources say the "move or leave" program has been and will continue to be applied throughout the tech giant, with at least one other department already implementing the new rules.
IBM still will not comment on the matter.
Company-wide policy
According to well-placed sources, IBM's Software and Systems unit began a transition similar to the marketing department's upheaval late last year, with remote workers told they would have to move and work at one of a handful of city offices, or find a new job.
Yesterday, we learned that IBM's US marketing employees were told they must report to and work at one of these main offices in America: New York, San Francisco, Austin, Cambridge, Atlanta, or Raleigh.
Teams in the Software and Systems division will also be made to work at those hubs, though we are told that IBM is keeping some of its labs open, and Software and Systems employees may be able to be relocated to one of those.
The consolidation effort, which IBM is pitching as a move to improve productivity, teamwork, and morale, is set to be extended to all IBM operations over the next six months. Remote workers, and staff at smaller offices, will be told to move closer to a regional hub, with IBM offering to cover some costs, or leave the company. Employees are being given roughly 30 days to make their choice.
EU too?
El Reg has learned that this policy will also be extended to IBM's operations in Europe: staffers in the UK and on the Continent will be expected to show up at main offices, with telecommuting banned.
IBM has pitched all this change to employees as a way to improve the working environment and office culture. In a video message to her troops, seen by The Register, chief marketing officer Michelle Peluso said "there is something about a team being more powerful, more impactful, more creative, and frankly hopefully having more fun, when they are shoulder to shoulder."
El Reg, however, has heard that within the IBM rank and file, the move is being seen as more of an excuse to cut a portion of the workforce, and in particular one specific portion. Multiple sources believe that the move will disproportionately affect older workers who have already put down roots with a home and family in a specific area. Thus, this decision to move people across the country might be by design to cut loose older and more expensive workers.
By requiring that workers move to hub cities such as San Francisco, Austin, or New York, IBM could both rid itself of older workers and make the jobs more appealing to younger, lower-salaried professionals.
Coincidentally, an internal IBM video distributed to staff, and seen by The Register, advocates working in an office. Funnily enough, it features a lot of young folks who wouldn't dream of telecommuting. The vid also leaked onto YouTube briefly: it was removed from the website soon after it was uploaded.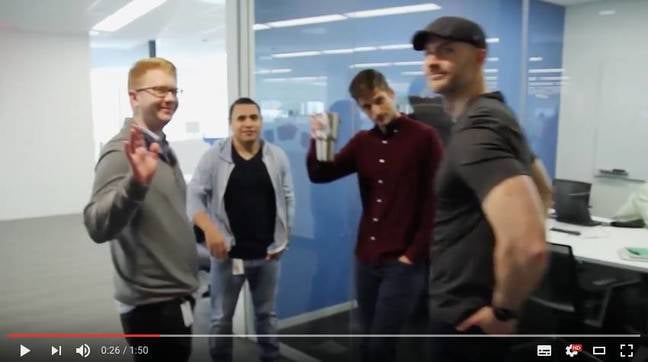 How do you do fellow kids ... A still from IBM's internal propaganda
IBM CEO Ginni Rometty has already pledged to add 25,000 new workers to IBM's ranks, and as some have pointed out, this workplace upheaval would be one efficient way to do so. ®
Do you have any info to spill? Email us in confidence, or securely and anonymously contact us via the Ricochet messenger: Our ID is ricochet:m3bnxucau5ishl2h