Microsoft briefed developers on the updates to the Windows 10 platform at an online Developer Day in preparation for the Creators Update, set for release later this year.
The Windows 10 story is long and complex. In 2012 Microsoft released Windows 8, intended to bring the operating system into the mobile era, where apps are secure, touch-friendly and delivered from a Store, and the old desktop environment retained for legacy applications.
Users rebelled. There were few decent apps, and in hindsight the platform was not ready. The company made a relatively swift U-turn, returning to a desktop-centric approach in Windows 10, released in 2014. However the Windows 8 app platform was retained, evolved into the Universal Windows Platform (UWP), so called because apps could run on any Windows 10 device from mobile to PC to desktop or Xbox.
The beauty of this vision was spoilt by the company's retreat from smartphones, and by the fact that in practice, most Windows users today still run desktop applications most of the time.
Nevertheless, Microsoft is still focused on UWP. There are several reasons. One is that the Windows 8 experiment did successfully position the operating system as a hybrid within which touch, pen, keyboard and mouse are all important. Making touch-friendly apps is easier in UWP.
Secondly, UWP does solve a long-standing Windows problem, that of safely and easily installing and removing applications. Microsoft has now extended this to desktop applications via the Desktop Bridge - formerly known as Project Centennial - about which we heard a good deal at the Dev Day.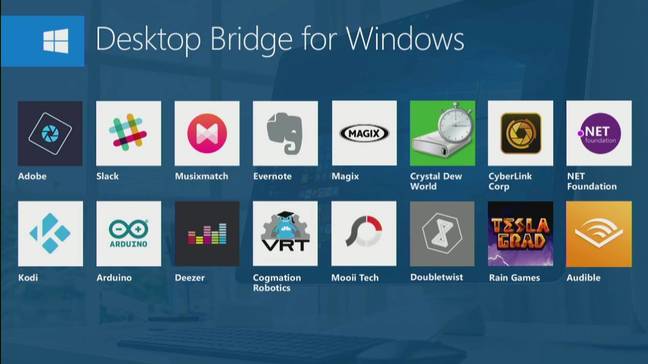 Applications using the Desktop Bridge can be safely installed and removed
The Desktop Bridge gives developers the ability to create one application for Windows 7 and Windows 10, but to get the benefit of UWP-like installation and Store delivery. Microsoft's slide showing vendors using the Desktop Bridge includes Adobe, Evernote, Slack and Cyberlink, showing that the idea has won some traction, as well as having potential for enterprise developers.
A third reason to care about UWP is that Microsoft continues to focus on it as the primary platform for new features such as Mixed Reality. The HoloLens headset has captured plenty of interest, but at $5,000 for a commercial device (or a mere $3,000 for developers) it has limited appeal.
Microsoft's strategy here is to take the HoloLens experience mainstream by supporting OEM headsets from the likes of HP and Lenovo. These are cut-down in terms of features, with fewer sensors and in some cases occluded vision (ie you can only see the screen, not the real world), but will be much cheaper. Microsoft's corporate VP of Windows Developer, Kevin Gallo, explained that HoloLens applications can be easily adapted to run on these alternative headsets.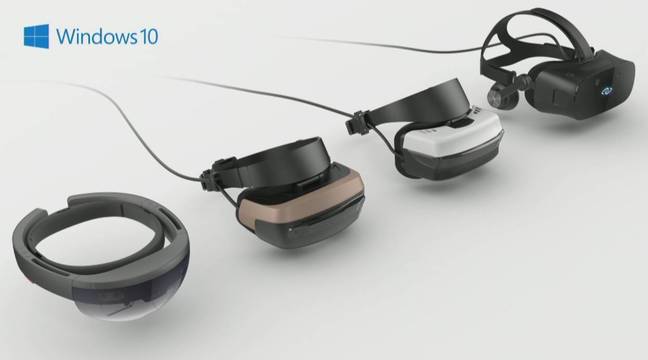 3D headsets from various partners aim to take the HoloLens experience mainstream
Windows remains important as a gaming platform, and this appears to be a key focus for Microsoft, not only with Mixed Reality, but also with improvements to the developer platform for gaming. These include the advent of PIX for Windows; a DirectX debugging tool; a new spatial audio platform called Windows Sonic for both PC and Xbox; and a Windows 10 Game Mode that optimizes performance. Microsoft is also adding features to the Store, such as the ability to start playing a game before it has completely downloaded, and better support for in-app purchases. Support for UWP games on Xbox now includes the ability to purchase them from the Windows Store. More news is promised at the GDC (Game Developers Conference) in San Francisco next month.
Microsoft is also still plugging away at Cortana, the sometimes annoying digital assistant baked into Windows 10. Coming in developer preview next month is the Cortana Skills Kit, which lets you trigger events in your own apps and services from Cortana speech or text input. This is Amazon Alexa territory, but the Microsoft hopes that the large Windows user base will win it some market.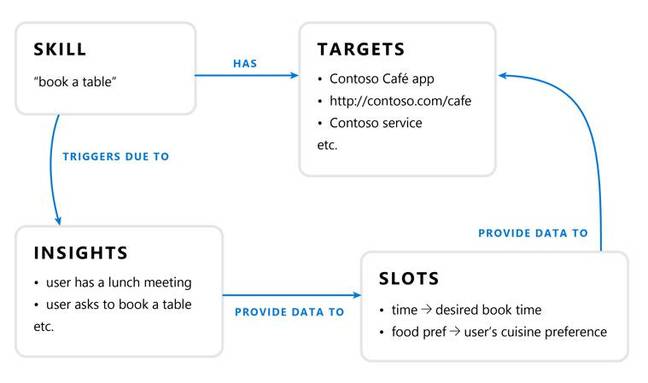 The Cortana Skills Kit lets you extend Cortana for your own services
Microsoft goes public with Developer Platform Backlog
Gallo announced at the Dev Day that Microsoft is going public with its developer platform backlog and bug list - and indeed, you can find them online here. This is, according to Gallo, is actually used internally and is not just a feedback or communication mechanism. Developers can see the status of new features and vote on proposals.
Gallo also promised that all developer documentation will be kept in one place, docs.microsoft.com
Microsoft is also now a cross-platform company, and another announcement was the Project Rome Android SDK. This is all about integrating apps that run on multiple devices so that users can switch seamlessly between devices.
Two other new SDKs enable app integration with Google Analytics and with Facebook.
Windows is not going away. It is firmly entrenched as a business workhorse, while among consumers it remains the de facto PC operating system for those not using Macs. Nevertheless, it is hard for Microsoft to position Windows as a cutting-edge platform for new applications, when so much attention has diverted to cloud and non-Windows mobile devices.
What we are seeing it the company building on key niches, such as gaming, mixed reality and touch/pen support, as well as refining its UWP platform and improving the Windows Store in the hope that more of its developers will take advantage. Another goal is to persuade app developers that it is worth their time to target Windows as well as Android and iOS. The key here is for the company to keep refining and improving the platform, so that developers have confidence in its stability and future.®