Oh my Tosh: Bids up to $3.6bn for memory biz as deadline approaches
Forget WD – bigger stake in joint flash fab would make more sense
Reuters is all over the Toshiba memory division 20 per cent stake sale, reporting incoming bids up to $3.6bn.
The money is needed to offset a multibillion-dollar ($5-6bn) writedown of Toshiba's US nuclear power station business following disastrous overruns, and it's needed by March due to Toshiba's corporate financial and reporting arrangements.
The Memory Division is to be spun out of Toshiba's Storage & Electronics Devices Solutions as a separate company in its own right, with a 20 per cent stake in it being sold.
Interested bidders are speculated to be Bain Capital, Foxconn, Micron, SK Hynix, Tsinghua Unigroup and WD. As private equity investment funds would not excite time-consuming probing from regulatory authorities, it is thought Toshiba would favour that route.
However, WD may not be interested in bidding for the memory division business directly after all.
Toshiba's relationship with WD
Stifel analyst and MD Aaron Rakers has clarified how he sees Toshiba's relationship with WD. The two jointly own a flash foundry business, with Toshiba holding 50.1 per cent and WD 49.9.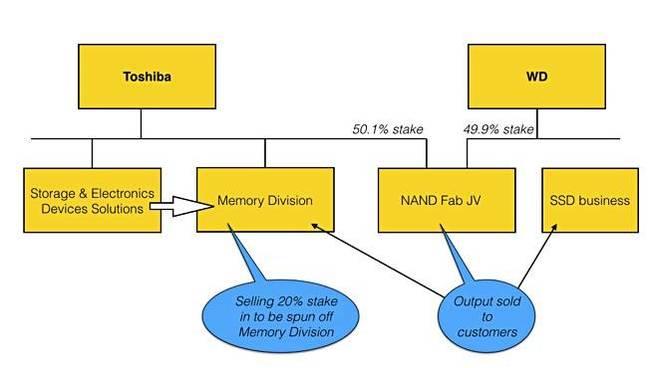 The joint venture's flash chip output is sold to Toshiba's memory division, which uses it to make SSDs and other devices using flash chips. It is also sold to WD, which uses it to make its SSDs, other flash drives and so forth. WD and Toshiba sell their respective devices in competition with each other, notionally at least.
So... why would WD want to buy any stake at all in Toshiba's memory division? It would, logically, be more interested in getting a larger percentage of the flash foundry venture's chip output. But Rakers points out: "We think a 20 per cent interest in Toshiba's memory division would not enable access to Flash Ventures' IP and/or capacity."
It's unlikely that any intent by WD to purchase a greater share in the joint venture would be completed anyway by the March deadline for Toshiba's money-raising efforts to deal with its US nuclear plant overruns.
Also he says Toshiba and SK Hynix announced a joint production partnership for (next-generation) MRAM in early 2014, and this would be a complicating factor in any deal with WD, which has its own, competing, ReRAM initiatives. ®