This article is more than 1 year old
Samsung's Chromebook Pro: Overpriced vanilla PC with a stylus. 'Wow'
Sammy attempts to take Chrome OS high end. Key word, attempts
Hands-on It's been nearly six years since Google announced the launch of its own operating system, Chrome OS, and the CR‑48 Chromebook running it.
Since then, Chromebooks have carved out a solid chunk of market share for the operating system. Around 50 per cent of US schoolchildren use Chromebooks in the classroom and Chrome OS is now the second most popular operating system in the country.
Typically a Chromebook will sell for under $200, and that's a major selling point for such systems. The vast majority of time spent on a laptop is either watching the internet or videos, emailing, and writing, and the Chromebook can handle all of that easily, and if little Timmy breaks his, it's cheap to replace and easy to reinstall lost applications.
But there's precious little profit in computers that cheap, so computer manufacturers have been trying out more expensive models. Google kicked this off in 2013 with the Pixel, a $1,449 machine aimed at wooing over Apple users.
It's a good machine (our review unit still works fine four years later) but at that price, it didn't find many takers. Now Samsung is taking a go at selling to more cash-rich buyers with its Chromebook Pro, a $549 laptop that it's hoping will find favor in the workplace. It goes on sale in April.
Convertible to cash in?
The first impression of the Pro was pretty good – it's a small, light unit with a very impressive 12.3-inch screen. The machine has a stylus built into the casing and is light enough at 2.38lb to make lugging it around easy.
The 281 x 222 x 14mm magnesium casing feels fairly sturdy and has proved scratch resistant in the week or so we've had it. The only jarring note was the protruding volume rocker and power buttons, which stick out a millimetre or so and occasionally catch on something when retrieving the Pro from a tight rucksack.
The 2,400 by 1,600 pixel touchscreen is a lovely bit of kit, clear and bright and with a 3:2 aspect ratio that makes it very handy for documents and web pages. While the forums show that there are plenty of skeptics out there on the merits of a touchscreen, this responsive system shows the best points of the technology and you get accustomed to using it for scrolling over a button or mouse.
Getting the screen right is important, because the Pro is also a convertible. The screen is held on 360-degree hinges and it folds over to make a useable, if somewhat bulky, tablet. There's also a 720p camera for videoconferencing at the top of the screen.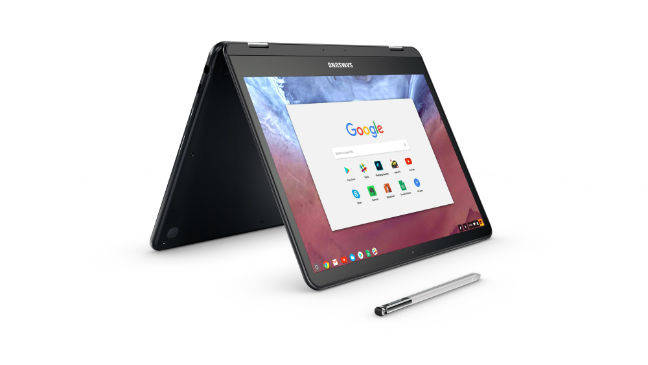 The Pro's convertible hinge is a nice touch, but a detachable keyboard would be nicer
The 113mm rectangular stylus, housed in the top right of the unit, is certainly handy, and having a dedicated slot for it is a definite advantage that you don't get with fancier systems like Microsoft's Surface. There's not much latency in on-screen writing with the stylus (Wacom supplied the technology) and it's useful enough – but only if you have a need for such a widget.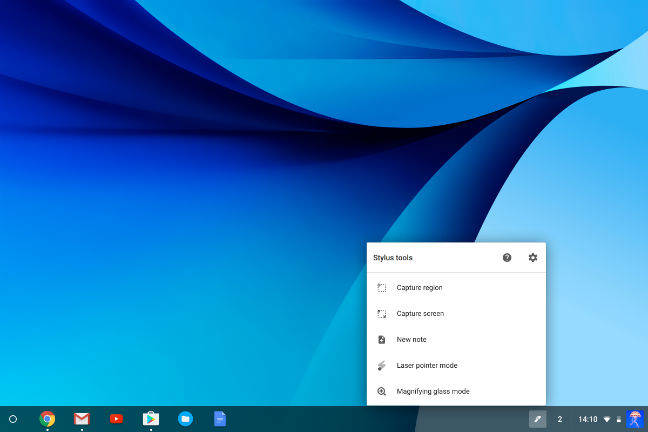 Popping out the stylus brings up a menu option for its common uses
Under the hood there's a moderately powerful 2.2GHz Intel Core M3‑6Y30 processor and HD Graphics 515 chipset, a somewhat measly 4GB of LPDDR3 memory, and 32GB of internal storage – good enough but just barely. However, in the latter case there's also a slot to allow microSD storage cards to augment the internal capacity – a very welcome feature that The Reg wishes more phone and laptop manufacturers would use.
For connectivity, there's twin-antenna 802.11ac Wi‑Fi and Bluetooth version 4. The Pro also comes with two USB-C ports (for pity's sake, Apple – learn from this) and a Type C to Type A converter plug ships with the system.
The Pro comes with a 39Wh battery that gives a solid nine hours of performance. In our tests we ran about an hour of video, another hour of gaming, and then a full work day before reaching for the charger. We could have gone more than nine hours if we'd lowered the screen brightness or cut down on music videos.
So far it all looks fairly good, however, the Pro's outer shell does come with faults. The keyboard is the Pro's worst feature, with OKish key travel but some dumb design decisions. The often-used backspace button has been chopped down, making it easy to mishit.
As an added bonus, the lockscreen button is directly above the backspace key, giving added possibilities for mishit keys. After typing for a week, the best you can say about the keyboard is that you get used to it; it lacks the smooth feel of an older ThinkPad or Pixel system.
The only other hardware letdown was the overall feel of the device. It has little of the reassuring solidity of a Macbook Air or Pixel Chromebook, and instead feels somewhat flimsy and the shell can be flexed with the hands.
Android and Chrome, sittin' in a tree
The Pro will be one of the first Chromebooks to ship with enables support for running Android apps. Right now, that support is in beta and unfinished. Pretty much ever since Chrome OS emerged, people have been asking when Android phone and tablet applications will come to Google's laptop operation system. At last year's I/O developer conference, Google committed to the marriage of its two platforms.
To pull this off, Android isn't opened in an emulator, but in a separate container that's sandboxed from the main laptop operating system. In tests, this worked fairly well, and I suspect it's going to be a real selling point once Google finishes the software and Android developers catch on.
Theoretically, this fusion opens up a vast new range of applications that can run on Chrome OS. One of the weaknesses of Chrome was that developers didn't write enough good apps for it, so the combo system fills that gap.
Up to a point, that is. While the Pro attempts to run 'droid apps, and allows them to use the built-in accelerometer and gyroscope for control and share the cut'n'paste clipboard with Chrome OS, some applications won't run, or run as you would like them. The secure messaging app Signal won't work on the Pro, and my most commonly played game, Age of Civilisations, won't run in full-screen mode.
You have to brace yourself for disappointment. Android apps show up on-screen in either phone or tablet mode, or full screen, for instance. This is supposed to be fixed when Android Nougat is brought to Chrome OS and applications are updated – right now, the Chrome OS on the Pro we reviewed is running Marshmallow.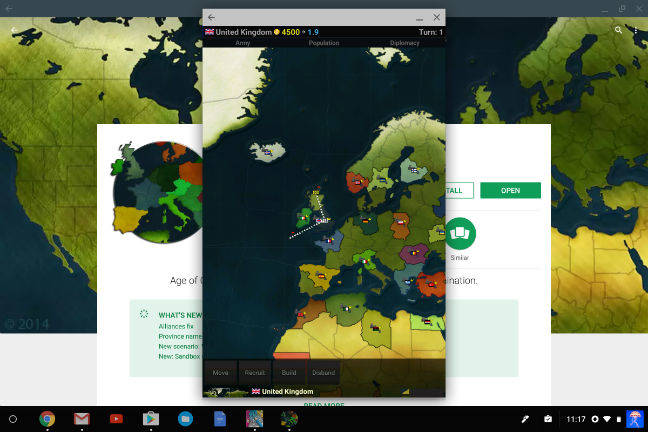 Developers will need to do some work to accommodate the fusion with Chrome OS
Developers are going to need to do some reworking of their apps so their software performs reliably on x86-based laptops rather than an ARM-powered phones. But they almost certainly will, eventually, since this marriage of Android and Chrome will open up new markets and revenue streams when done properly.
Security is another big advantage of the Chrome OS. The built-in Trusted Platform Module makes the Chrome OS very difficult to get malware onto and Google is offering six-figure bounties for people who can show them how to do it – with no takers so far.
To buy or not to buy
The Pro is clearly positioned to go up against the iPad Pro and does have a lot to recommend it on that front – principally, it's a lot cheaper. However, the undetachable keyboard make the Samsung Pro a lot less fun to use as a tablet than its Apple rival.
There are some nice design features, like the internally housed stylus, and a few bad ones too. The technical specs are disappointing, too – Chromebook watchers had been hoping for at least 8GB or 16GB of RAM in a so-called "Pro" laptop.
Knock maybe $100 off the purchase price and the Chromebook Pro would be a good buy, but at $549 it's too much. An HDMI port would have been nice too, although Samsung will sell you an adaptor for that.
In all, it's an adequate bit of kit. If you like Chrome OS, it's not a bad pick, and the Android integration is enabled but unfinished. One can't help feeling that it's a lot of money for just enough hardware. Slapping the word "Pro" on a laptop, and bunging in a stylus for good measure, doesn't mean you can just jack up the price: there has to be a justification. ®