This article is more than 1 year old
Oracle teases 'easy-to-absorb' platform updates, wants 'all' your infrastructure biz
Big Red admits to a lost half-decade in silicon, promises melding with software real soon
Oracle's popped out a short explanation for the sketchy SPARC/Solaris roadmap it slipped out in January.
That roadmap mentioned "SPARC next" and "SPARC next+" without offering much detail other than a promise of faster speeds and bandwidth, more cache and updates to "software in silicon".
Now John Fowler, Oracle's executive veep for systems, has released a video with a little more detail.
In the video below, Fowler makes the frank admission that Oracle endured a lost half-decade from 2010 to 2015, when it "had to catch up on performance" of its server silicon.
Fowler believes the company not only did so but "captured the lead in microprocessor design", citing core count as the metric that matters.
He goes on to promise "a stream of innovations in microprocessor and silicon development" to deliver "a generational gap in capability around things like software in silicon and as well as in performance and cost."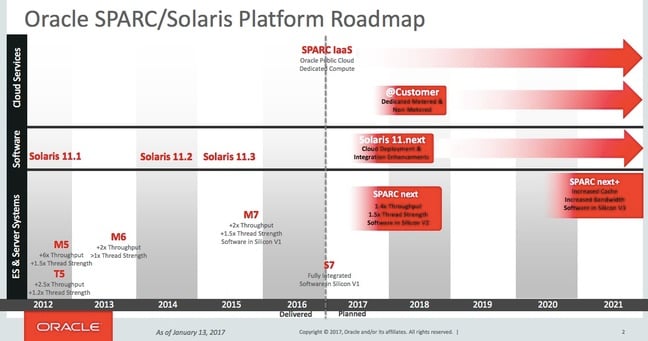 Oracle's new SPARC/Solaris roadmap. Embiggen with a click here
Fowler also mentions "incrementally providing platform-level updates in a way that is easy to absorb". Whether that's with the cloud-like hardware consumption models or easier swapping of components isn't explained.
"Software in silicon" gets a little explanation with Fowler promising Oracle is "taking data analytics and security to next generation levels as well as overall continuing to drive improvements in performance and cost"
Fowler winds up by saying Oracle "looks forward to partnering with you on all your infrastructure needs in the years to come."
All? Oracle's got servers and converged infrastructure covered and its storage portfolio ticks most boxes, but its networking portfolio is modest and lacks routing but does have decent virtual networking. But it does have software clients galore that it looks to be steering towards a subscription model. Much of that software currently runs on partners' hardware, providing lovely business for the likes of Dell and HPE. If Fowler's words are more than a throwaway line and Oracle really wants to bid for cloud-style consumption, with easy hardware upgrades, the infrastructure caper might be about to get mighty interesting. ®