+Comment NetApp met its revenue predictions for its third fiscal 2017 quarter and talked openly about a coming SolidFire-based hyperconverged product suited for scalable hybrid cloud and mixed workload enterprise deployments.
NetApp's revenues were $1.4bn, an increase of 5 per cent sequentially and 1 per cent year-over-year, pretty flat and smack in the mid-point of its guidance.
Net income of $146m was disappointingly down from the $153m reported a year ago but higher than the prior quarter's $109m.
Product revenue of $784m increased over 10 per cent sequentially and 5 per cent year-over-year.
Revenues from software and hardware maintenance and other services was $620m, relatively flat sequentially and down slightly on a year-over-year basis.
NetApp said its all-flash array annualised net revenue run rate is almost $1.40bn, up 160 per cent year-over-year. It revealed all-flash FAS deployments represent less than 10 per cent of its installed base - we think a lot less - giving it a large opportunity there.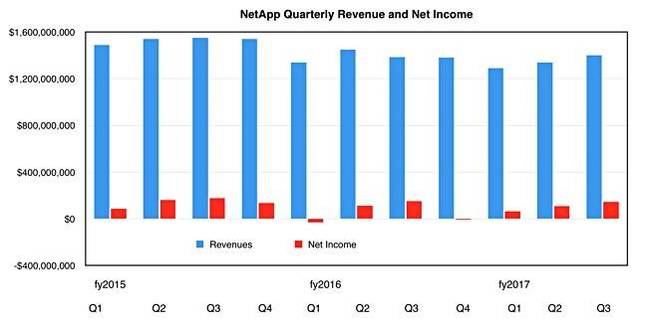 Stifel analyst Aaron Rakers points out that Pure's run rate is around $740m and HPE's all-flash run rate is around $755m. We understand Dell is in the lead with all-flash array annual revenues well above $1.5bn.
He further says: "In prior quarters IDC has estimated that NetApp's all-Flash FAS and EF-series arrays accounted for +90 per cent of the company's total all-flash array revenue, implying ~$15-$2m in SolidFire revenue contributions."
CDOT was selected in 90 per cent of shipped FAS arrays in the quarter. There is still scope for installed base conversion from ONTAP 7-mode, though, as CDOT is running on approximately 40 per cent of systems there, leaving 60 per cent yet to convert. NetApp said CDOT is managing 50 per cent of installed base capacity.
Overall these are good results. William Blair analyst Jason Ader has eaten humble pie and written: "We concede that we have not been believers in NetApp's turnaround, but recent results speak for themselves, and we cannot deny that NetApp has gotten back on track."
Earnings call
In the earnings call CEO George Kurian summed things up: "We executed well ... again delivering solid results with revenue at the midpoint of our guidance range and both operating margin and earnings per share above our guidance."
He says NetApp has three priorities:
Data Fabric platform and the strategic solutions that are built for the opportunities of a data-centric world,
Lowering its cost structure and streamlining operations while maintaining its ability to innovate,
Robust capital allocation program with a mix of share buybacks, dividends and investment for the long-term growth of the business.
"In Q3, strategic solutions constituted 65 per cent of net product revenue, up 22 per cent year-over-year. Net product revenue from our mature solutions declined 18 per cent year-over-year." Mature products means 7-mode ONTAP and OEM revenues basically. Strategic products are Clustered Data OnTap (CDOT), all-flash FAS, SolidFire and E-Series arrays, object storage and the Data Fabric products which integrate on-premises and public cloud storage.
Kurian assured analysts "the headwinds from mature solutions will lessen, allowing the growth of the strategic solutions to return the company to moderated revenue growth in fiscal year 2018."
The outlook for the fourth quarter is for revenues in the range of $1.365bn to $1.515bn
All-flash array competition
Kurian said: "The major competitor that we go up for the majority of the deals are the large system manufacturers, most notably EMC and the other high-end SAN arrays that we are displacing with all-flash FAS."
He made an interesting comment on HPE: "HP has always been the low-price leader, and they lack the feature set in terms of data management services. So they compete aggressively on price."
As for startups they "are increasingly challenged to differentiate themselves, and so you see evidence of desperation from various different smaller startup players. I'll just leave it there."
That would apply to Violin Memory but not at all to Kaminario.
Hyperconverged product
NetApp says it is developing a hyperconverged infrastructure (HCI), built on its SolidFire flash array. Product marketing director for next-generation data centres John Rollason blogged that NetApp's product will give customers "the flexibility to run multiple workloads without compromising performance, scale, or efficiency. As part of the Data Fabric platform, it will also be the first fully cloud-integrated HCI solution, giving customers the ability to take advantage of their data across on-premises, public cloud, and hybrid cloud environments."
Rollason reckons: "The first generation of HCI platforms have proved a great alternative for small/medium businesses (SMB) and remote office/branch office (ROBO) applications for organizations not fully ready to embrace a wholesale move to public cloud and SaaS services" and "smaller scale virtual desktop infrastructure (VDI) projects."
But not "within the core data center, HCI solutions have not yet proved a match for more mature CI and 3-tier solutions due to limitations around performance, automation, the ability to share workloads, lack of scale, and limited configuration flexibility."
Existing HCI products, Rollason says, "are purchased with a fixed ratio of compute-to-storage resources", which "limits their utility for mixed-workload environments," and they:
Lack the ability to guarantee performance for shared or mixed workloads,
Become expensive and inefficient as they scale,
Lack mature data management and data services,
Are not integrated into mature CI, hybrid cloud, or Data Fabric strategies.
This restricts "their use to isolated, smaller, on-premises workloads. This has mostly limited HCI to smaller-scale clusters of 4-8 nodes, resulting in many costly HCI 'silos' as demands grow."
We could point out that Dell's VxRail HCI products are positioned by Dell quite differently from this view.
Kurian said the coming NetApp HCI product will "serve the needs of mainstream customers with a platform that's differentiated with performance, enterprise data management capabilities, and hybrid cloud integration."
Okay – the clues here imply an all-flash SolidFire-based HCI appliance which would have a variable ratio of compute to storage, with compute-dense and storage-dense boxes for example, scale well past 8 nodes - think 32 or 64 - and be integrated into FlexPod and NetApp's Data Fabric. Virtualisation software could come from VMware and KVM.
But a NetApp HCI product using SolidFire storage would need servers and networking. Rakers notes that SolidFire used "Dell servers as its compute node [controllers] at time of NetApp acquisition)." That will have already stopped or be about to stop we would think.
Where will they come from? Commodity ODM (Original Design Manufacture) suppliers we suppose, such as Supermicro. Answering a question Kurian more or less confirmed this: "If you look at the recent A700s flash-optimized, NVMe fabric-ready architecture, it was sourced by – off the – an ODM model, right? So we are expanding the range of usage of off the line platforms across the range of our business, both in SolidFire as well as in our traditional FAS business."
In effect we are thinking hardware-wise of a SolidFire array with added servers and networking components.
When will NetApp's HCI product appear? Kurian said: "We will have more information on the development of this exciting new solution for you in the first quarter of fiscal year 2018."
That means in the May-to-July period this year. He added more would be revealed at an Investor Day in New York on April 5.
+Comment
Kurian looks to be well in control of things at NetApp, making this statement: "I remain extremely confident in our ability to successfully execute against this opportunity. The transformation of NetApp is yielding results and has changed the trajectory of our business. We have a sharp focus on delivering innovation to address an expanding range of customer requirements in the fastest-growing parts of the market, while lowering our cost structure and streamlining the business."
In passing he mentioned that he doesn't think NVMe will be a point of differentiation between array vendors as every vendor will have it.
The fun questions to ask are (1) whether NetApp is right in its diagnosis of hyperconverged infrastructure product ills and (2) can it build a hyperconverged appliance to fix these issues and be successful in the market even though it is a latecomer? NetApp will not want another FlashRay debacle and we don't think it will experience one. We'll hear more on April 5. ®