Analysis Current thinking among vendors with hyper-converged and converged infrastructure offerings is that physical SANs are in decline and their market is shrinking. Chad Sakac, Converged Platforms Division president at Dell EMC, is the latest high-profile prognosticator to push this view.
The Wikibon consultancy first talked about the server SAN idea in a January 2014 report, which mentioned Nutanix and SimpliVity. In April that year it went further, predicting that the growth of server-based SANs in enterprise and hyperscale data centres would prompt a dramatic fall in traditional enterprise storage use – meaning SAN, NAS and DAS – starting in 2017, continuing to 2022, then levelling off through to 2027.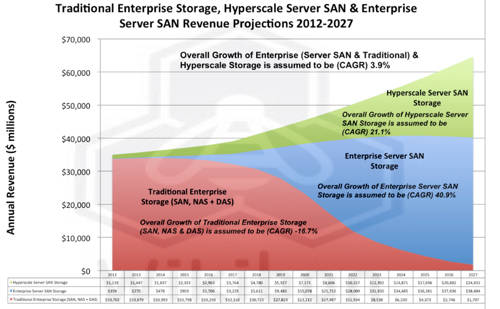 Wikibon's 2014 Server SAN prediction. Click to enlarge.
The Wikibon report, updated in July 2016, is available here.
SVP and President Jeff Boudreau's department is responsible for physical SAN and filer products such as VMAX, Unity/VNX, XtremIO, Isilon, SC and PS arrays – the very products Wikibon and Sakac say face dramatic decline.
Sakac's business unit covers hyperconverged infrastructure (HCI) VxRail and VxRack, the XC (OEM'd Nutanix), and the Converged infrastructure (CI) Vblocks. Inside Dell it will be Sakac's division delivering the hammer blows to Storage SVP and GM Jeff Boudreau's bunch of products if the physical SAN decline predictions are right.
First Sakac volley
Sakac makes these forecasts in a pair of blog posts, the first of which was published on February 9. Bluntly, he said:
1. Software Defined Storage is ready for the majority of x86 workloads (by volume) as hyperconverged infrastructure or pooled storage.

2. SANs are best suited for specific workloads that demand very high capacity or performance, or have complex data protection needs.
"This is the official point of view of Dell Technologies, part of which is VMware (which naturally aligns with the above), part of which is Dell EMC, the #1 provider of external storage arrays."
He says the external SAN market is slowing, that the converged infrastructure market is growing, but that growth rate is slowing while hyperconverged is taking off.
"The trend is also corroborated by the slowing growth of Converged Infrastructure (CI) – which is slowing. CI remains 'hot' at 2-30 per cent CAGR – a wide swing depending which CI player you're talking about. VxBlocks continue to grow at the high end of the range – but a 30 per cent growth rate still represents a 'slowdown' from 50 per cent and 100 per cent growth rates in years past."
In comparison he points to "the huge growth rates of vSAN (north of 7,000 customers), ScaleIO (100 per cent + CAGR) and HCI models like Dell EMC VxRail, VxRack and XC that have growth rates that are measured in multiples of 100 per cent CAGR."
Changes in the traditional external storage market are not happening overnight but the writing is on the wall. He says it is happening because server SANs (software-defined storage on hyperconverged plus converged infrastructure plus hyperscalers' infrastructure) have a granular scaling model. More simplicity especially at scale, and a better ability to leverage commodity hardware.
He concludes: "SDS and HCI models can cover the majority of workloads (by volume/count), while the place for SANs and CI are increasingly directed towards important (but not the majority by volume/count) workloads."
Second Sakac assault
In a second blog post in a promised series of four, Sakac says HCI can scale to enterprise level as well as CI systems. "HCI Appliances are for customers who are ready to change their compute/storage operational model. HCI Rack Scale systems are for customers who are ready to change their compute/storage/network operational model. Scale has nothing to do with it – both HCI Appliances and Rack-Scale systems both scale to enormous heights."
He says VxRail will get a full OPEX consumption model very soon, and coming developments include:
Six months of "core stabilisation" for the VxRail 4.0 release train via two major releases in the 4.x release train
Later a major software update that brings all the vSphere 6.5u1 and 6.6 vSAN goodies, including vSAN-based encryption, two-node configurations and a TON more
A major hardware platform update that brings the Skylake/Purley platforms – as well as a whole new world of NVMe and NVDIMMs. There will be more on the GPU front as well – as that market cooks
So Dell's HCI hardware and software will both become significantly more powerful.
The traditional world of shared external storage will feature all-flash arrays replacing disk arrays, and vendors growing revenues by taking business from each other while HCI takes general storage market share away from external arrays.
Vendor consolidation
The subtext is that the external storage market will see vendor consolidation from the big three HCI vendors – Dell, Nutanix and HPE/SimpliVity, aided by Cisco with HyperFlex, the various HCI startups, and the coming NetApp SolidFire-based HCI offering.
Within the external storage market we see Dell, Fujitsu, HDS, HPE, Huawei, IBM, Kaminario, NetApp, Nexsan, Nimble, Pure Storage, Tegile, Tintri and others in primary storage, and Actifio, Cohesity, Primary Data, and others in converged secondary storage silos, plus Dell Data Domain, Exagrid, Quantum, Spectralogic and others with dedicated data protection storage arrays, and others like DDN and Scality, Cloudian and more in external storage niches such as HPC, object storage and Big Data analytics storage.
The public cloud is also prompting external storage array decline.
Four things could happen:
The HCI vendors will move into secondary storage. It's an adjacent market.
All the external primary storage vendors will bring out hyperconverged offerings or extend sideways into some other adjacent market as external primary storage gets squeezed by market forces and intensifying competition.
There will be primary external storage array vendor consolidation over the next two to seven years, with the 13 primary storage array vendors contracting by around 50 per cent, and the niche players protected.
Some of the silo-converging secondary players will be acquired by primary storage array vendors looking for adjacent market openings.
That's our take. What's yours? ®