Advertising revenue flowing back to app developers from Android apps has exceeded the amount returned to developers by Apple for the first time.
Despite its lowly market share, iOS has long boasted of good returns from its app ecosystem, in terms of both purchases and ad revenue. Owners of Apple bling spend more and are worth more to advertisers. Google had been unable to translate traffic to ad dollars, even in a world where over 80 per cent of new devices run Android.
But around 18 months ago, the picture began to change.
In May 2015, Opera Mediaworks reported that Android had exceeded iOS app revenue for the first time, turning a 65:22 traffic split (At the time featurephones and other platforms still accounted for just over 10 per cent) into a 45.77 per cent share of app revenue. iOS, which at the time had a 22.34 per cent share of ad views, took second place for the first time with 45.44 per cent of app revenue.
That's no longer an outlier.
PubMatic's Q4 2016 survey of mobile ad revenue, measured in eCPMs – effective cost per mile, or the sum ((total earnings/impressions) x 1,000)) – has seen Android ad revenue exceed that of iOS for the first time. PubMatic also estimates that monetised Android ad inventories will exceed iOS too in 2017, which is another way of measuring the same thing.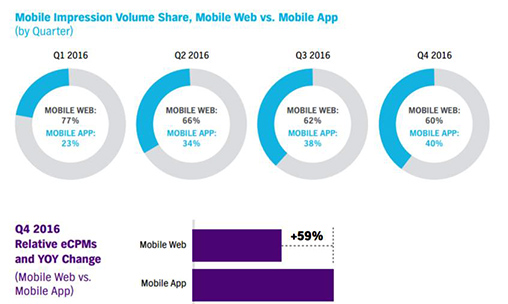 Mobile tends to be where much of the innovation and growth now takes place. For example, the practice of "header bidding" on mobile, where the publishers offer ad inventory in advance to multiple programmatic buyers, grew some 4,800 per cent in 2016. Mobile private marketplaces (PMPs) earnings rose 200 per cent. Mobile clicks on ads for technology products grew 350 per cent for PMPs year on year.
But this merely reflects the reality, PubMatic notes, of ad spending following the consumer: "Advertiser demand is shifting simultaneously toward high-quality inventory and automated transacting, while consumer behavior continues to veer towards mobile-first browsing."
Although mobile developers probably shouldn't need to care how the sausage is made - PMPs and header bidding are only really of interest inside the adtech industry itself - the overall trend is inescapable. App ad monetisation is catching up with the mobile web for returns. Mobile web paid impressions were actually down 8 per cent year on year, while in-app paid impressions rose 21 per cent.
"Advertisers will likely lean more heavily toward apps in order to reach mobile consumers in a space where eMarketer predicts US mobile users will spend almost three-and-a-half hours a day this year."
By contrast, daily mobile web usage is just 45 minutes a day in the US.
The ad-supported app is alive and well. ®
Similar topics