Ad men hope blocking has stalled as sites guilt users into switching off
How many swallows do you need for a summer? One will do
The adoption of prophylactics to protect users against advertising failed to rise in 2016, according to pollsters YouGov.
The hopeful conclusion that the Internet Advertising Bureau trade group draws from this is that ad-blocking has hit a plateau as users mull the moral implications of blitzing ads from their PCs and phones.
Last year publishers began to introduce speed bumps, or outright barriers, to digital readers who were using an adblocker. The IAB thinks this is a factor.
"A key reason is publishers denying access to content to ad blockers which, in effect, has created that 'lightbulb' moment for people who realise that they cannot access free content without seeing the advertising that funds it," said IAB UK CEO Jon Mew in a canned statement. "The industry has worked hard on promoting this 'value exchange' and it's paying off."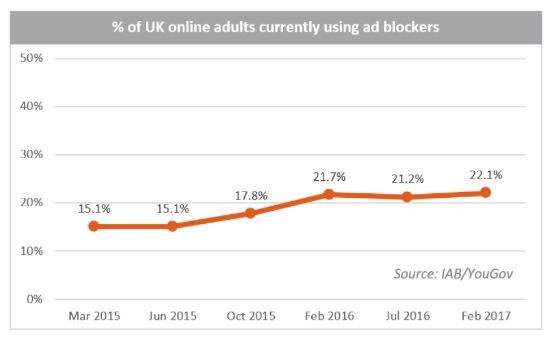 The proportion of UK adults using blockers remained at 22.1 per cent in February 2017, which is actually the highest since October 2015. But anything resembling a flat line will be a relief to publishers and adtech.
Some 24 per cent of users polled said they rejected ad-blockers because they got in the way of accessing content. That's up from 16 per cent a year ago.
The IAB is trying to merge the complex and unruly digital ad marketplace into producing less obtrusive advertisements. "A better, lighter and more considerate online advertising experience" is how Mew puts it. He reminded the adtech industry that it's a long way from that yet.
YouGov's rolling twice-yearly poll samples around 2,000 adults over 18. ®