This article is more than 1 year old
OK, hyperconverged is the new black. But who's winning at it?
Well... not Microsoft, Cisco or HPE, according to a consultant
A consultancy reports that Nutanix, Simplivity and VMware lead the SDS/HCI market, while Microsoft, Cisco and HPE lag behind.
Interesting... now that HPE has bought SimpliVity it must be a top 2 player and could be numero uno (it is). But lead in what? Certainly not in sales units or revenues; this is mainly a product documentation box-ticking exercise as far as we can see.
The consultancy is WhatMatrix, which says it is crowd-funded.
The report is looking at the SDS/HCI area – software-defined storage/hyperconverged infrastructure – and scores each product on a range of categories, such as Fileserver interconnect and Hypervisor compatibility. Each category gets a traffic light rating: green – fully supported, yellow – limitation, red – not supported.
There are dozens of categories and each supplier is scored with a maximum score for SDS/HCI suppliers of 192. VMware gets 132, SimpliVity 141, and Nutanix 167. Other vendors checked are Atlantis, Cisco (HX), Dell EMC (ScaleIO), HPE (VSA, HC380, HC250), Microsoft (S2D), and VCE (VxRail).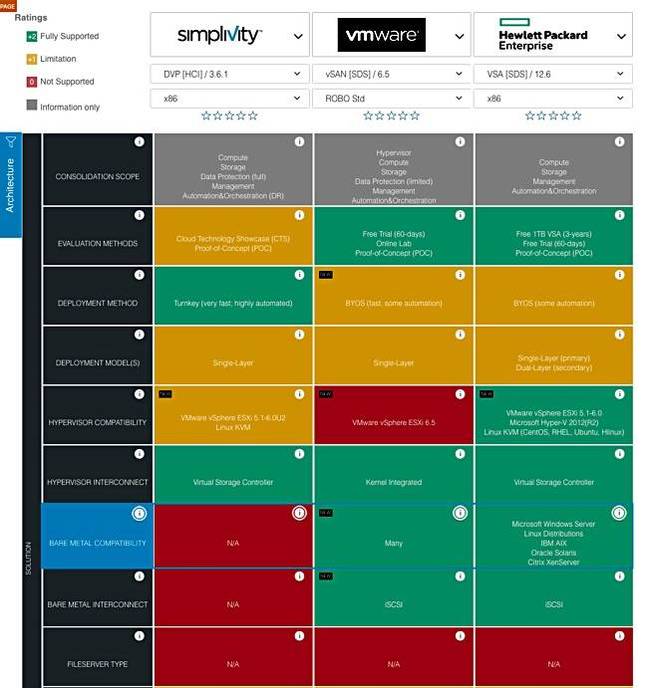 It points out that its report "highlights that server vendors without an SDS/HCI solution will not stand a chance in this high-growth market".
WhatMatrix also predicts:
SDS/HCI customer base will increase exponentially – Expect major platforms to surpass the 10,000 customer-mark before 2018.
SDS/HCI scope will continue to expand beyond storage – Competitive drive towards providing a full set of private cloud ecosystem features – with a focus on expanding the platform "stacks".
SDS/HCI gets unified and hybrid – Platforms are set to evolve into unified multi-cloud storage offerings.
Startup companies will continue to drive innovation – Smaller companies with an exclusive focus on SDS/HCI are likely to stay ahead of the established storage vendors when it comes to innovation cycles.
We're thinking that WhatMatrix looks roughly like a cross between Wikibon and DCIG, but that might be stretching a point.
The full report can be downloaded free of charge – with no registration required – here. ®