Startup Storj (pronounced storage oddly enough) has an open source, distributed cloud object storage platform using blockchain technology and end-to-end cryptography across a peer-to-peer network to secure files.
The network consists of the internet and a shared community of "farmers", users who rent out their spare desktop hard drive space and bandwidth. Payment, at $0.015/GB, is via a cryptocurrency: namely, StorjcoinX (SJCX) a cryptocurrency similar to bitcoin.
And here's a hook: you can apparently rent out spare disk drive space here and become part of a cloud storage network that competes with AWS, Azure and Google.
The company claims this is orders of magnitude more secure, up to 10x faster and 50 per cent less expensive than traditional data centre-based cloud storage solutions. The blockchain features include a transaction ledger, public/private key encryption, and cryptographic hash functions for security, and Storj says users don't have to assume the risk of censorship or hacking as with private or public cloud data centres.
CEO/CTO Shawn Wilkinson said in a release quote: "The decentralized aspect of Storj means there are no central servers to be compromised, and because of the use of client-side encryption, only the end users have access to their unencrypted files and encryption keys."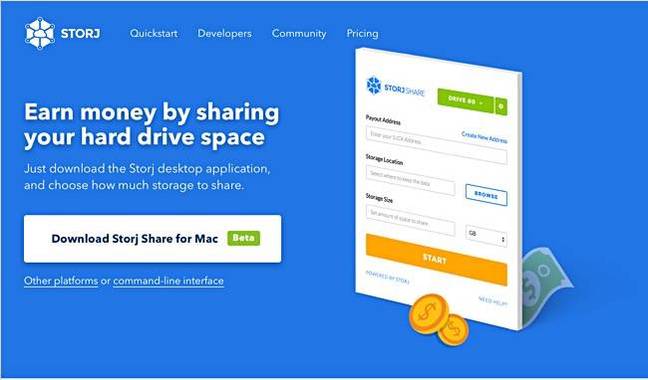 Rent out spare HDD space with Storj.
The idea behind Storj Labs came from co-founder and lead developer Wilkinson during his undergraduate studies at Morehouse College. It was founded in 2014 with $500K non-equity assistance and there were five co-founders: Wilkinson, chief development officer John Quinn, chief design officer Tome Boshevski, COO and CFO James Prestwich and advisor Jim Lowry.
Storj has raised $3m in a seed financing round which includes angel investors from VC firm Qualcomm Ventures, and security execs from Ionic Security, Cockroach Labs and Pindrop Security. Previously, in January it received $100K in grant assistance from the Utah Governor's Office of Economic Development (GOED). Total funding is $3.6m.
The Storj community has grown to more than 8,200 farmers (users who are renting out their hard drive space and bandwidth) and more than 15,000 API users worldwide.
Storj Labs has a channel partnership with Heroku to enable developers to build, run, and operate applications entirely in the cloud. Developers get distributed object storage with encryption.
+Comment
What do we think? The user and farmer numbers speak for themselves. The funding seems a generous total from angel and seed investors for a software startup. The ability for users to rent out their spare desktop drive space seems satisfyingly neat and they might also become Storj users too.
There are elements of a franchise arrangement here and Storj could grow like wildfire with consumer users and farmers. But we hesitate to say there is an enterprise play here. There could well be, with enterprises using it, but enterprises might not like the idea that their storage drive estate is managed so sloppily they have significant chunks of spare space available for rent. On the other hand, if they could rent that out ...
Storj has come up with an intriguing concept and it's going to be fun to see how it progresses. ®
Similar topics