Radioactive leak riddle: Now Team America sniffs Europe's skies for iodine isotope source
Readings raise fears of nuke, probably a boring factory fumble
---
The US military has sent one of its atmosphere-analyzing aircraft to Europe to hunt the source of a radioactive leak on the continent.
Last week, the French nuclear watchdog the Institut de Radioprotection et de Sûreté Nucléaire (IRSN) issued an alert after sensors in Norway, and then much of the rest of Europe, detected Iodine-131 in the air. This radioactive isotope is a byproduct of nuclear fission. It is also used in anti-cancer treatments.
"Iodine-131 is a radionuclide with a short half-life (eight days)," the IRSN said. "The detection of this radionuclide is proof of a rather recent release."
The agency has activated the Ring of Five – five nuclear boffins from Germany, Sweden, Norway, Finland, and Denmark – to analyze the cause of the contamination. The radiation levels involved here are too low to be harmful, although the source of the leak needs to be tracked down. And now Team America World Police is here to help.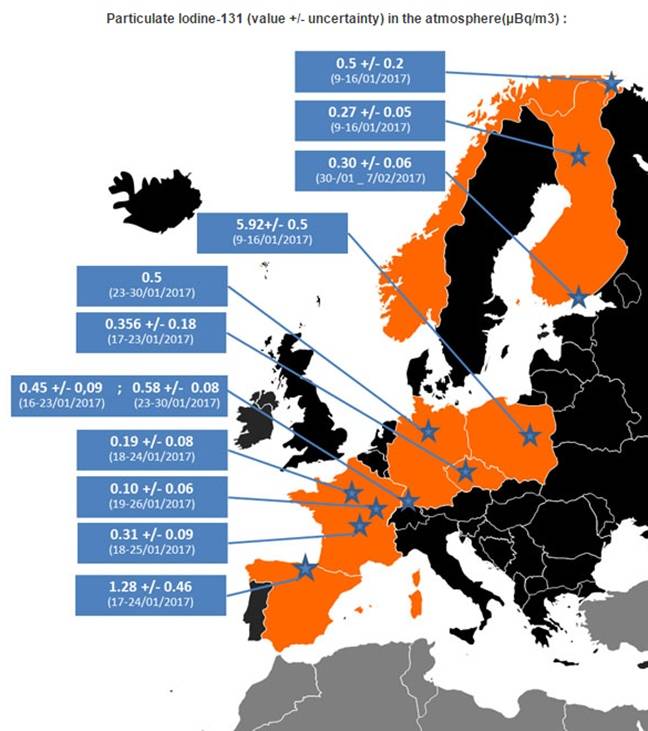 A very odd distribution pattern ... Where the Iodine-131 has been detected (Source: IRSN)
Over the weekend, the US Air Force's WC-135C Constant Phoenix Nuclear detection aircraft arrived at RAF Mildenhall in the UK, according to The Aviationist blog. It will criss-cross European skies trying to pinpoint the source of the iodine isotope.
There are a number of possibilities. Iodine-131 is generated in large quantities by a nuclear explosion, leading some to assume that Russia may have broken the Test Ban Treaty and fired off an experimental nuke. But that seems unlikely, given the satellites and seismographs dedicated to watching for just such an occurrence.
A more likely explanation is that the leak is the result of a blunder at a medical or manufacturing facility. Iodine-131 is widely used to treat cancer and for use as a tracer element in the oil and gas industry, and a leak like this has happened before.
In 2011, European sensors picked up Iodine-131 in the air, sparking an alert. In the event, it was traced back to the Institute of Isotopes in Budapest, which had suffered two leaks during manufacturing.
Typically any facility making Iodine-131 should be ringed with sensors looking for radioactivity, so the leaker would know that they are responsible. But as no one has owned up, it's going to take a while to track down the source of the leak.
In the meantime there's no cause for alarm, although anyone developing super powers should probably get checked out. ®