The International Telecommunications Union (ITU) has published a draft of what it expected to become the final 5G specification.
The significance of "Draft new Report ITU-R M.[IMT-2020.TECH PERF REQ] - Minimum requirements related to technical performance for IMT-2020 radio interface(s)" is that "IMT-2020" is the offical name for what the world calls 5G. The document therefore sets a benchmark for all would-be 5G adopters: if they can't match the 13 specs outlined in the document, they're FakeG!
The document specifies 13 technical performance requirements, many of them concerning spectral efficiency and other matters for radio wonks. The ones that will excite those of you wondering just what 5G will mean include:
Downlink peak data rate of 20 Gbit/s and uplink peak data rate of 10 Gbit/s;
In dense urban areas, experienced downlink data rate of 100 Mbit/s and uplink at 50 Mbit/s. "Experienced" means real world data flows in terms of bits delivered over Layer 3;
A minimum of one million connected devices per square kilometre;
Mobility standards covering connections and speeds when walking, driving at up to 120 km/h and even travelling in high-speed trains at up to 500 km/h;
Zero interruption time when migrating between radios;
At least 100MHz of available bandwidth at all times, and support for 1GHz in higher bands.
Here's how 5G will behave when you're on the move:
Test environment
Normalized traffic channel link
data rate (Bit/s/Hz)
Mobility (km/h)
Indoor Hotspot – eMBB
1.5
10
Dense Urban – eMBB
1.12
30
Rural – eMBB
0.8
120
Rural – eMBB
faster vehicles
0.45
500
What next? This document is off to a meeting of ITU-R Study Group 5, which is expected to sign it off at a November 2017 meeting. The ITU predicts that will go off without a hitch in its announcement of the new document. Then there's years more work before the IMT-2020 standard is complete, as the organisation's roadmap shows.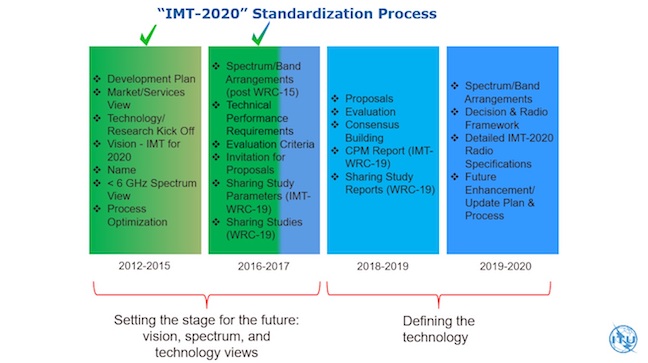 As the graphic above shows, by 2020 5G will be stick-a-fork-in-it done. Which means we only have three years' more hype about how it will change everything to endure. ®
Similar topics