This article is more than 1 year old
Dell offers crunch-in-a-box set of Edge teeth to Internet of Things things
Trio of Atomic edge boxen to sharpen the Things' bite
Dell has developed the Edge Gateway 3000 Series of boxes so IoT customers can do some data analysis at the edge of their IoT network, to make real-time local decisions about the operations of IoT-monitored machinery and reduce bandwidth needs for data transfer to a central site.
These embedded systems have been developed from embedded versions of PCs and are, we'd suggest, best thought of now as single-use servers.
There are three models in the 3000 Series: 3001, 3002 and 3003, and they are intended for embedded use in industrial automation, energy, transportation, and digital signage markets. Suggested deployment ideas from Dell include a vehicle, a refrigerated trailer, a remote oil pump in the desert, digital signs in an elevator and inside HVAC units on the roof-top of a casino.
All three boxes have:
Intel Atom processor,
2GB RAM and 8GB eMMC storage (32 GB and SD card for additional storage options),
Ethernet, USB, certified for Wi-Fi, Bluetooth LE,
Integrated 3G or 4G LTE cellular options for select countries,
Support for hot or cold operating temperature extremes from -30°C to 70°C,
Integrated digital GPS, accelerometers, and atmospheric pressure sensors,
Support input power range from 12-57 VDC (with vehicle transient voltage protection),
Ability to be powered via Power-over-Ethernet (PoE), and
Ignition pin for easy operation while connected to a battery-powered device.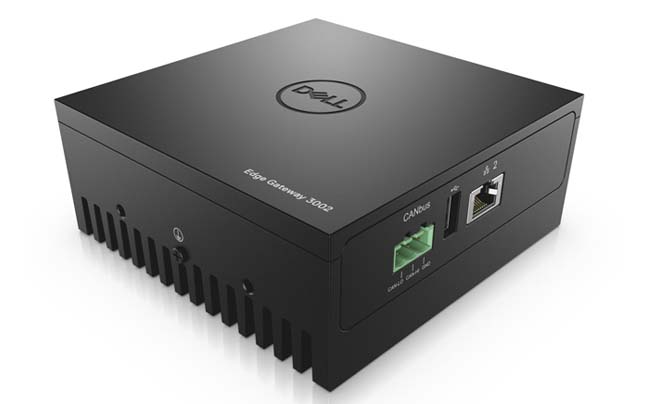 Dell Edge Gateway 3000 Series
The 3001 is for industrial automation and energy management, has a multi-function I/O port and programmable serial ports (RS-485/422/232). The 3002 is for transpiration and logistics, and is fitted with GPS tracking, support for accelerometers and other MEMS devices, CAN bus for land/marine protocols, and integrated ZigBee for mesh sensor networks.
Dell is pitching the 3003 at digital signage and retail use, equipping it with a Display Port output for video displays (2560x1600) and 3.5mm line in/line out for quality audio streaming.
With all three, additional I/O needs can be addressed via third-party USB dongles and Distributed I/O options as required. A set of accessories is also available, such as various antennas, and mounting brackets for factory walls or under the hood of a truck.
Dell already has 5000 and 5100 Edge Gateway boxes, a 5000 Series, which feature:
Dual-core Atom E3825 processors
Ubuntu Core 16 Linux
SSD storage
The 3000 series fits under the 5000 series in a marketing sense. Dell says the 5000 Series products are for fixed-location use cases that require modular expansion, large sensor networks and advanced edge analytics. The 3000 Series products are for both fixed and mobile use cases requiring smaller sensor networks, tight spaces, and simpler analytics.
Dell also has Embedded Box PC 3000 and 5000 (PDF) products.
DEG 3000 boxes will be available for purchase in early summer 2017 starting at £319/€369. The things have been announced in Barcelona at the Mobile World Congress - hence no dollar prices yet - and more info will come online at www.dell.com:80/Gateway3000 later today. It wasn't available when we looked. ®