Nimble offers AWS and Azure cloud-wrapper
Hybrid pipes and services for Amazon-sippers
Nimble Storage claims Azure and AWS clouds aren't ideal for enterprise transaction apps but says it can fix that by wrapping them inside Nimble Cloud Volumes for a $0.10/GB/month starting price.
Nimble says it'll provide customers with its Cloud Volumes, which come with six nines (99.9999 per cent) measured storage availability and offer - marketing alert warning - data durability "one million times greater" than native cloud block storage. No quantifiable argument is offered for this million times better data durability.
According to Nimble, AWS and Azure block-level cloud storage doesn't have (on-premises) "enterprise-grade" availability and data durability. However, "enterprise-grade" was similarly not quantified, and Amazon's Elastic Block Store (EBS) has "each Amazon EBS volume... automatically replicated within its Availability Zone to protect you from component failure, offering high availability and durability."
Likewise, Azure, too, ensures "data in your Microsoft Azure storage account is always replicated to ensure durability and high availability".
At any rate, Nimble claims Cloud Volumes data protection is cost effective, as customers only pay for changed data, not for additional full copies. They can also create instant zero-copy clones in the public cloud for fast deployment of test and development, analytics and bursting in the cloud.
Data in a cloud volume can be moved to a cloud volume in another cloud, or to/from an on-premises Nimble array, thus preventing cloud supplier lock-in. Nimble is supporting Amazon and Azure with this announcement, and not saying anything about other public clouds.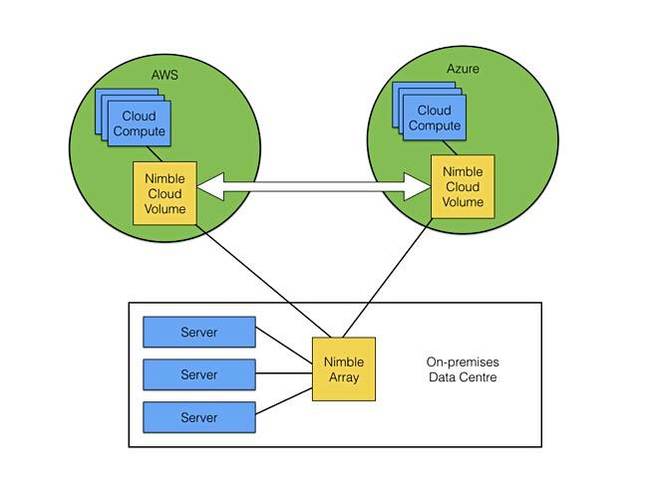 Nimble Cloud Volume concept
It also says such cloud volume data movements happen without large data egress charges.
Cloud Volumes come with Nimble's predictive analytics to help customers identify and resolve performance issues, optimise storage costs and improve data placement.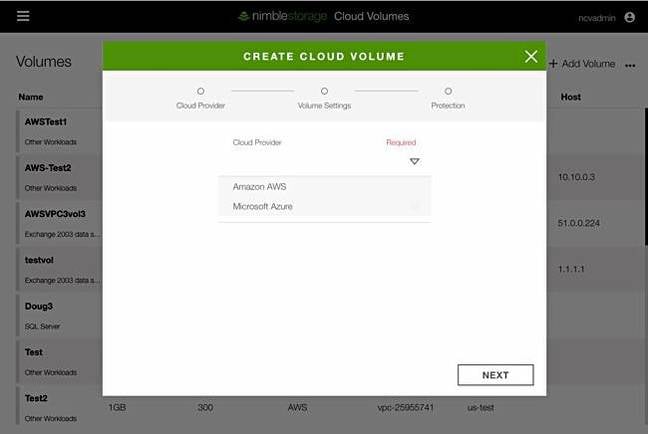 Cloud Volumes CSP choice
The notion of having a hybrid cloud storage model, with equivalence between on-premises and public cloud storage and data movement between them, has been espoused by NetApp with its Data Fabric, which has a larger set of data services involved plus an arrangement for fast access pipes to the Amazon cloud. It will be interesting to see how Nimble develops its Cloud Volumes offering.
The Cloud Volumes service is currently in beta, with customer previews starting this quarter in the US. Nimble says its Cloud Volumes service will be made available to additional regions over the next six to 12 months, and Cloud Volumes pricing will start at $0.10/GB/month. ®