MWC MWC SanDisk has slapped a price sticker and availability date on its 256GB A1-class microSDXC cards, as well as 256GB USB sticks and a 3D NAND-based embedded flash drive.
The new microSDXC card will be known as the Extreme microSD card with A1. Unveiled on Monday at the Barcelona MWC, it is an A1-class device with random read and write IOPS of 1,500 and 500 respectively, and its transfer speed can reach 100MB/sec. SanDisk gave us a glimpse of the card CES 2017 in Las Vegas in January.
By A1 class, SanDisk means the device meets the SD Association's application performance specification [PDF] which requires a card to be fast enough – particularly in terms of random read-write IOPS – to run apps from its storage.
So in other words, SanDisk says this A1-class microSDXC is good enough to store apps and run them directly when plugged into your smartphone. Google's Android Marshmallow (v6) and Nougat (v7) operating systems can run software directly from A1 cards, and the A1 standard is supported in hardware by HTC, Huawei, Lava, Lenovo, MediaTek, Meizu, Micromax, Oppo, Vivo and ZTE.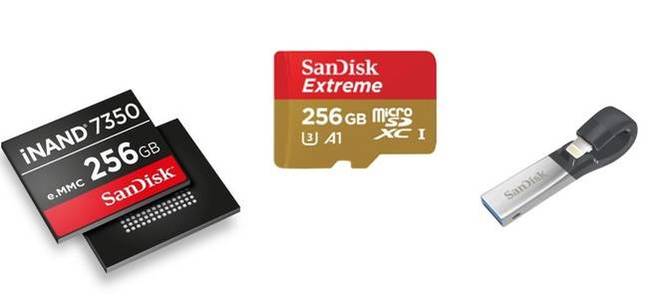 SanDisk flash drives announced at Mobile World Congress
The flash chip on the card uses 2D NAND, unlike SanDisk's 3D NAND-using iNAND 7350 embedded flash drive, which also has an up-to 256GB capacity. It's said to use fourth-generation SmartSLC technology which caches incoming writes in a fast SLC (1bit/cell) part of the otherwise slower TLC (3 bits/cell) drive. Sequential write speed is almost up to 2Gb/sec aka 250MB/s at the 128GB capacity level – and its random read IOPS are up to 15,000. Peak speeds can reach 22,000 IOPS.
A previous planar (2D) NAND version of this product line, the 128GB iNAND 7232, announced in July 2015, did sequential writes at 150MB/sec, so things have gotten nicely faster.
The iNAND line of embedded flash drives is for smartphone, tablet, gaming console, Chromebook and other mobile devices. Get a one-page product brief here [PDF].
SanDisk also announced today its 256GB iXpand Flash Drive and 256GB Connect Wireless Stick. The Xpand drive is for iPhones and iPads, with a lightning connector and a USB 3.0 connector so files on the card can be moved between iPhone/Pad and PC/Mac desktops/notebooks.
There is an Xpand drive app and users can "cast" content from the SanDisk iXpand Flash Drive to their television via Chromecast device or Amazon Fire directly from the app. With the app, users can automatically back up their camera roll, content from social networking sites, like tagged photos from Facebook and Instagram, and watch popular video formats straight from the drive.
The Connect Wireless Stick is also for iPads and iPhones and can stream music, videos or HD movies to three devices at a time via the Connect app. The drive can also share content between iPhone, iPad, iPod, Mac and PC via password-protected Wi-Fi connectivity, and stream content onto large displays via AirPlay with Apple TV.
Price and availability
The 256GB SanDisk Extreme microSD card with A1 will begin rolling out worldwide in late March 2017 with a US MSRP of $199.99 (£160 currency converted, real-world UK price may vary). The iNAND 7350 embedded flash card is currently sampling with selected OEMs, with general availability beginning in the second 2017 quarter.
The 256GB SanDisk iXpand Flash Drive and SanDisk Connect Wireless Stick are available now at Amazon, Best Buy.com, bhphotovideo.com and other etailers, with an US MSRP of $279.99 (£225). SanDisk's Connect app is available for download on the App Store. ®