As Pure's quarterly results show revenue growth continuing, CEO Scott Dietzen is leading the company out on a highwire towards the billion dollars/year revenue goal, with the FlashBlade sales ramp essential to them not falling off.
Revenues grew to $227.9m in its final fiscal 2017 quarter, which finished at the end of January, which means a 51.7 per cent increase on a year ago and a 15.7 rise on the previous quarter – solidly satisfying numbers.
There was a net loss of $42.9m which compares to the year-ago net loss of $44.3m, and so is a slight improvement in raw number value. Pure made a net loss of $78m in the previous quarter.
Stifel analyst MD Aaron Rakers said these were "better than feared results" and, more positively, "better than expected." Willam Blair analyst Jason Ader opined: "The quarter closed on a whimper, with a mix shift to entry-level systems, leading to lower-than-expected backlog."
Pure gained 450 new customers in the quarter, taking the total customer count past 3,050.
Full year revenues were $728m, a 65 per cent increase from the previous fiscal year. The full year GAAP net loss was $245.1m; there was a net loss of $213.8m a year ago. In comparison NetApp's all-flash array annual revenue run rate is $1.37 Bn.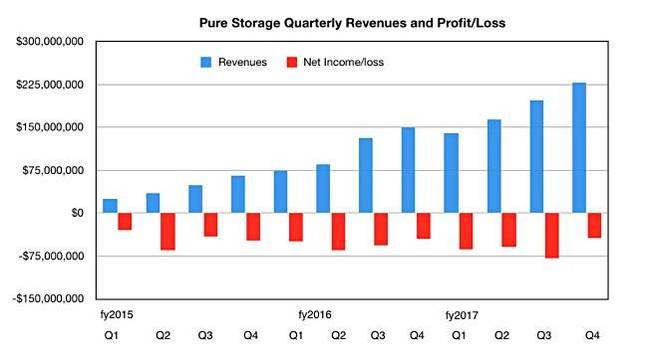 Revenues and GAAP net income in Pure's quarterly results to Q4 fy2017
CEO Scott Dietzen blogged about the results, saying, "Pure just wrapped up another outstanding year of growth."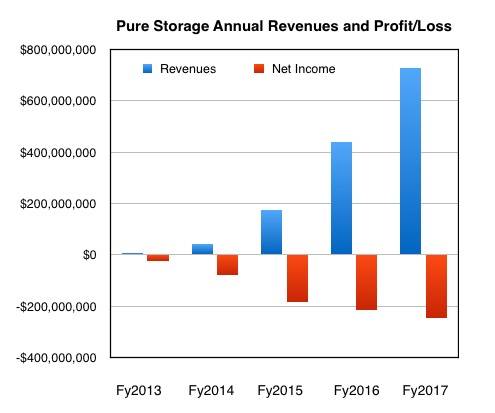 Revenues and GAAP net income in Pure's annual results to fy2017
Listening to the earnings call, Rakers said: "Pure noted that it would ship synchronous replication capabilities in 2017, which we believe opens up further high-end market opportunities (e.g., further competitive in legacy EMC high-end VMAX environments)."
He also comments: "We expect Pure to introduce/emphasise fully native NVMe-based solutions in mid/2H2017 (Pure Accelerate 2017 end user conference scheduled for early-June."
In the ,earnings call Pure President David Hatfield said Pure will introduce "enhanced cloud integration for data protection and hybrid cloud use cases." over the next year.
The company seems confident it will reach the $1bn revenue number for its next fiscal year – fy2018. It also hopes to crossover to sustained positive free cash flow in the second half of fiscal 2018. Ader noted Pure profitability is "expected in the fourth quarter of fiscal 2018."'
Reaching a billion
Dietzen answered an earnings call question about reaching a billion dollar revenue status in fiscal 2018:
in order to hit $1 billion in revenue this year, all you have to believe is that we can drive FlashArray growth in the 25 per cent to 30 per cent range and that's off of a 55 per cent growth that we drove in FlashArray last year. And then FlashBlade is going to do roughly 2x in its first full year of selling versus what FlashArray did and that's easy to believe given we're already operating it scale. We think that combination of factors adding in the sales cohort productivity and the strong bookings from repeat purchases is how we get to the billion dollars.
Rakers noted "initial FlashArray revenue totaled ~$43M in C2013," and points out that "The company noted that FlashBlade demand has already outpaced these trends with ~50 per cent of demand coming from existing customers."
Impact of seasonality
More immediately Pure hopes revenues in its next quarter, Q1 fy2018, will be in the range of $171m to $179m, $175m at the mid-point; they were $139.9m in the equivalent year-ago quarter.
Stifel's Rakers wasn't impressed, commenting: "The company's notably lower F1Q18 guide is likely to be viewed as a negative," but "The company attributes its F1Q18 to be primarily reflective of typical seasonality."
Ader comments: "The soft [quarter] close together with more pronounced seasonality (as the business scales) drove very weak first-quarter guidance that was $26 million below consensus." He adds this: "Management issued full- year revenue guidance of $1 billion, which was only slightly below consensus and implies a very aggressive ramp-up in the second half. Given Pure's mixed track record thus far as a public company, we expect the likelihood of Pure hitting this revenue target will be the crux of the bull-bear debate over the next few quarters."
It all depends on FlashBlade
His thinking centres on the recently introduced FlashBlade array, as FlashArray revenue growth is based in part on reliable repeat purchase intentions and the opportunity, with Hatfield saying: "We believe that roughly 90 per cent of the tier 1 refresh to all-flash is still ahead of us." If he is right then all existing all-flash array suppliers should benefit from that.
But FlashBlade is different, according to Ader:
Management is confident in its FlashBlade projection based on the early momentum and pipeline, the disruptiveness of the product, and the fact that each selling team will only need to sell one to two FlashBlades over the course of the year for the company to reach its target revenue. Despite the slow expected start to the year per management guidance, our sense is that the FlashArray target is reasonable, though not overly conservative. At the same time, we believe the FlashBlade target is aggressive and will require near-flawless execution.
Hatfield tried to boost FlashBlade confidence, saying:
FlashBlade is lightning in a bottle. The unstructured market there is exploding around in other things machine learning in big data as you know, we kind of held the salesforce back last year with directed availability to make sure we got, the quality and the product that we wanted to stability and also the use cases, but when we launch this to our sales team the couple of weeks ago at our kick off, there is huge enthusiasm to drive it.

And so there is couple of things that you need to think about as you model it. One, it takes one to two FlashBlades per selling team for the year to beat our internal numbers. And 50 per cent of our business so far has come from our installed base. And so if you look at a different way less than 10 per cent of our installed base need to convert over to FlashBlade. So we're super enthusiastic and very confident in the FlashBlade launch.
Ader's crux question is: "Will investors be spooked by the $1 billion target or buy into the FlashBlade-driven, second-half acceleration story?"
It's Dietzen leading Pure out on a high wire above a dizzying gap to a billion dollar a year refuge. Will he make it? Won't he make it? See you in a year's time. ®
Bootnote Pure execs have a habit of calling themselves by part of their last names. In the earnings call David Hatfield introduced himself: "This is Hat." Dietzen was referred to as Dietz. Marketing head Matt Kixmoeller said: "So this is Kix." It's a good job nobody called Titfield is a Pure exec - or Dixon.