This article is more than 1 year old
Why so sad HPE, IBM, Lenovo? Server sales? Let's see... ah. Oh dear
Tough year for big box shifters as shipments, revenues, hopes, dreams fail
Analysis HPE, IBM and Lenovo each lost their market-share footing in the server box shifting world at the end of 2016, according to Gartner and IDC. Server sales revenues also dropped in the final three months of the year.
Gartner says worldwide server revenues declined 1.9 per cent year-over-year in the fourth quarter to $14.84bn, and IDC's bean counters found there was a 4.6 per cent decline to $14.6bn.
The Gartnerites said shipment numbers also fell, by 0.6 per cent year-over-year, and provided tables for worldwide and EMEA server revenues and shipment numbers.
IDC says: "Worldwide server shipments decreased 3.5 per cent to 2.55 million units in 4Q16 when compared with the same year-ago period."
Overall, according to Gartner research VP Jeffrey Hewitt: "x86 servers continue to be the predominant platform used for large-scale data center build-outs across the globe, and the growth of integrated systems (including hyperconverged integrated systems), while still relatively small as an overall percentage of the hardware infrastructure market, also provided a boost to the x86 server space for the year."
The worldwide highlights are:
HPE led the server market based on revenue in the fourth quarter
HPE revenue was down 11 per cent
Only Dell and Huawei exhibited growth for the quarter
Here are the worldwide tables:


And the EMEA ones:


Adrian O'Connell, research director at Gartner, said: "The fourth quarter did not end the year on a high note, with declines in the second half being larger than those seen in the first half. Full-year volumes for 2016 in EMEA fell by 4.2 per cent and revenues fell by 8 per cent compared to 2015. The big picture is that demand from a wide range of buyer types has been weak across the entire region."
Regional highlights:
Server revenue in EMEA totalled $3.4 billion, a decline of 11.4 per cent from the fourth quarter of 2015
HPE maintained the number-one position but suffered a double-digit revenue decrease of 10.6 per cent
HPE's server shipments declined 16.3 per cent year-over-year
Dell and Fujitsu's server revenues fell less sharply than the overall market
In shipment terms, Dell stood out among the global top-five server vendors with an 11.4 per cent growth in the fourth quarter of 2016
The decline in IBM's revenue accelerated in the fourth quarter of 2016
Huawei was the clear shipment winner – 54.6 per cent – of the fourth quarter of 2016
Asia/Pacific was the only region to exhibit positive growth in both shipments and revenue in the fourth quarter of 2016
Gartner's commentary said: "IBM's x86 divestiture leaves it far more exposed to swings in demand for high-end servers, which are already suffering from cyclical weakness."
HPE led the worldwide server market based on revenue in the fourth quarter of 2016.
Dell grew 6.5 per cent and moved into the number-one position in worldwide server shipments in the fourth quarter of 2016, with 19.1 per cent of the market. HPE experienced a decline of 19.4 per cent and fell to the second spot with 17.2 per cent market share. Huawei experienced the strongest shipment growth, increasing 64 per cent over the same period last year.
IDC
The IDCers say: "Overall server market growth has recently slowed in part due to a slowdown in hyperscale data center growth and continued drag from declining high-end server sales. Server demand across enterprise portfolios continued to be soft for the quarter.
"On a year-over-year basis, volume and midrange system revenue decreased 3.3 per cent and 6.1 per cent in 4Q16 to $11.2 billion and $1.4 billion respectively, [and] demand for high-end systems experienced a year-over-year revenue decline of 10.7 per cent to $2.0 billion."
It expects to see continued long-term secular declines in high-end system revenue. Depressingly, it sees overall levels of deployment and refresh may be slowing in hyperscalers as well as in enterprises. The only way is down, it appears to think.
Here's a tabular listing of IDC's findings for the quarter:
| Vendor | 4Q16 Revenue | 4Q16 Market Share | 4Q15 Revenue | 4Q15 Market Share | 4Q16/4Q15 Revenue Growth |
| --- | --- | --- | --- | --- | --- |
| 1. HPE/new H3C Group | $3,454.1 | 23.6% | $3,932.2 | 25.7% | -12.2% |
| 2. Dell Technologies | $2,577.9 | 17.6% | $2,576.1 | 16.8% | 0.1% |
| 3. IBM | $1,791.9 | 12.3% | $2,162.4 | 14.1% | -17.1% |
| 4. Lenovo | $946.8 | 6.5% | $1,136.2 | 7.4% | -16.7% |
| 5. Cisco | $916.1 | 6.3% | $927.9 | 6.1% | -1.3% |
| ODM Direct | $1,154.1 | 7.9% | $1,242.0 | 8.1% | -7.1% |
| Others | $3,772.2 | 25.8% | $3,344.9 | 21.8% | 12.8% |
| TOTAL | $14,613.1 | 100% | $15,321.7 | 100% | -4.6% |
HPE's share and year-over-year growth rate includes revenues from the H3C joint venture in China that began in May 2015.
Highlights include Dell's revenue growth being better than the market and, apart from the Others category, being the only vendor with growth. All the other vendors' revenues shrank – Cisco least of all.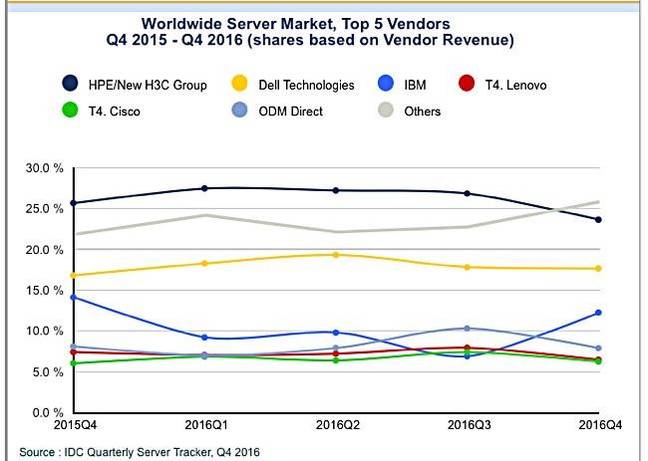 IDC's server vendor revenue chart shows HPE top of the rankings by a clear margin, but having been overtaken by the Others category. Dell is second and IBM significantly behind, selling far fewer units of POWER servers and mainframes but with profitability to die for. Cisco and Lenovo are fairly close together in a tied fourth place, and ODM sales to hyperscalers and others put that category of supplier ahead of Cisco and Lenovo.
The server market is like a never-ending, round-the-world yacht race; gruelling, complicated, and with all the big, expensive ocean-going yachts passed by cheapskate Others and ODM overtaking the two tail-enders. This is the volume-driven, ass-end box-shifting part of the IT market and it's no place for startups, yet Symbolic IO is giving the gig a whirl. Has it got what it takes? ®