This article is more than 1 year old
Nutanix spanked as it predicts sales slowdown
Sales superheroes promoted into management and suddenly next quarter looks tricky
Nutanix posted excellent quarterly revenue results – but its outlook for next quarter is so comparatively low that its shares took a hammering.
The hyperconverged system supplier's revenues were US$182.2m for its second quarter, ended January 31, up a chunky 77 per cent from the $102.7 million reported a year ago. The sequential rise was 9.2 per cent from the $166.8m recorded in the prior quarter.
As expected there was a hefty GAAP net loss of $93.2m, which is almost three times larger than the year-ago loss of $33.2m. It is substantially lower than the previous quarter's $162.2m net loss but substantially higher than the roughly $40m - $50m net losses recorded in previous quarters.
Other financial details disclosed today include:
Cash and Short-term Investments: $355.2 million, up 175 per cent annually,
Billings of $227.4m, growing 59 per cent from $143.4m a year ago,
The customer count grew to over 5,380 end-customers, with over 900 new end-customers in the quarter,
Nine new Global 2000-class customers signed up to run Nutanix's software on Dell XC hardware.
However, billings were $240m in the first fiscal 2017 quarter so there has been a sequential decline.
"Our journey has taken us from an unknown upstart to a well-established enterprise IT brand approaching a $1 billion annualized billings run-rate in just five years of selling," said chief exec Dheeraj Pandey. "We continue to evolve and refine our strategy, including product expansions, sales focus and alternate consumption models, as we seek to capture a growing share of the highly dynamic $100+ billion enterprise infrastructure market."
Duston Williams, chief financial officer, said: "Our solid results were driven by notable strength in our international business."
Nutanix also said there was strong adoption for its built-in Acropolis hypervisor, AHV, which it promotes as rather cheaper than VMware's alternatives. Usage rose to 21 per cent, up from 17 per cent in the prior quarter, based on a four-quarter rolling average of nodes using AHV as a percent of total nodes sold.
Now, for the ugly bits. The company revealed that it expects revenue of between $180 and $190 million in the next quarter. At the mid-point that is $185m, a mere 1.5 per cent increase on the second quarter. Compared to Nutanix's previous double-digit or near double-digit sequential quarterly growth rates, that is a disaster. Charting it shows what we mean;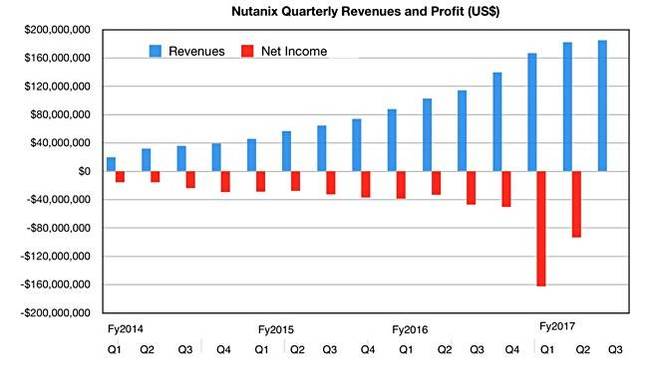 Nutanix quarterly results to Q2 fiscal 2017 with estimated mid-point Q3 fy2017revenues added.
The chart shows a pronounced flattening of Nutanix's quarter-on-quarter revenue growth rate in the coming third fiscal 2017 quarter. Okay; it is just an outlook and it is the mid-point and Nutanix could top that figure. But after hearing the outlook, analysts and investors took fright and Nutanix shares dived 13.75 per cent from $31.12 to $26.84.
In the earnings call Williams said there were fewer $500K+ deals than expected, primarily in North America. Sales management may have been to blame, with Williams saying: "we may have underestimated the impact of productivity associated with ... promoting some of our best performing sales reps into management roles."
But: "We expect the North American productivity to rebound over the next few quarters." The effect of this sales force change is factored into Nutanix's outlook for the third quarter along with seasonal weakness.
Williams also said Nutanix expects "DRAM prices to increase 30 per cent to 40 per cent" in the next quarter, and product prices went upon February 1 as a result. Williams disclosed that: "If our price increase holds there is a chance for over-performance on this guidance, however it's just too early to tell."
In answer to a question about Pure Storage saying hyperconvergence was only good for remote and branch offices, Pandey said: "More than 50 per cent of our workloads are with Tier 1 enterprise workloads. VDI is about a little less than 30 per cent for our workloads and a lot of the Tier 1 workloads include Microsoft, SAP, and Oracle."
Marketing head Howard Ting commented on the Nutanix/Dell relationship, saying: "We've been successfully conveying to the Dell resellers that this [XC] is a product that works in a broader set of scenarios in used cases than their own VxRail product. And it's exhibited extremely strongly repeat purchase rates. So I think on those two bases also there is a tremendous amount of interest in their sales organization for this product."
No worries about the Nutanix-Dell relationship continuing there then.
In passing Pandey panned Dell's Vblocks and Cisco/NetApp's Flexpods, saying: "There is also a new convergence on the horizon, with VMware and AWS announcing intent to serve the enterprise customers with a new hybrid cloud stack that melts AWS's hardware with VMware's software. This could be a lost opportunity if it's done arm's length like the way converge infrastructure was done with Vblocks and FlexPods. As we all know they are largely fading away mostly not refreshed the second time."
I dare say both Dell and NetApp would politely beg to differ. ®