A Royal Air Force pilot has been cleared of perjury – but will be sentenced at court martial today after admitting he allowed his digital camera to jam his military airliner's controls, sending it into a 4,000ft plummet.
Flight Lieutenant Andrew Townshend was taking photos while flying an Airbus A330 Voyager from RAF Brize Norton to Afghanistan in 2014. The court martial heard he put his Nikon DSLR down between the armrest of his captain's chair and the airliner's main control stick, mounted on the side of the cockpit.
When Flt Lt Townshend moved his seat forward a couple of minutes later the camera was rammed into the stick, sending the aircraft into a sudden dive where the peak rate of descent was 15,000 feet per minute. The aircraft descended 4,400ft in 33 seconds, Bulford Camp Military Court Centre was previously told.
Flt Lt Townshend was cleared of two counts of perjury – service prosecutors having alleged he lied to the formal Service Inquiry about the cause of the incident – and of making a false entry in the aircraft's tech log after landing.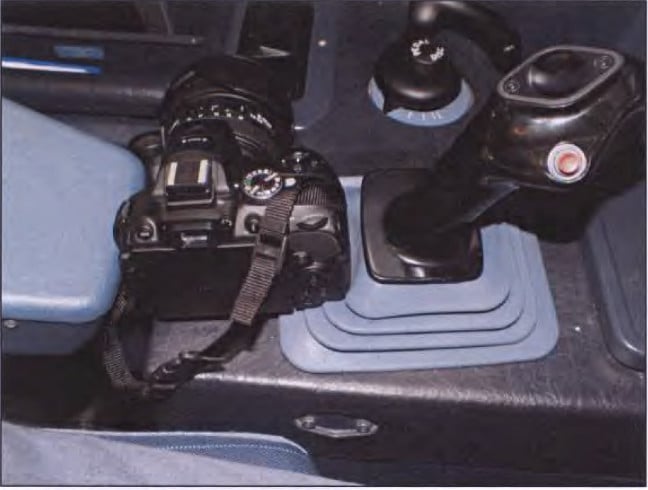 A reconstruction of the camera's position between the Airbus' side stick and the captain's armrest (at left) before the seat was moved forward. Crown copyright
During the February 2014 incident the A330's flight control computers automatically pulled it out of the dive as Flt Lt Townshend and his co-pilot, Flt Lt Nathan Jones, frantically struggled with the controls, believing the autopilot had caused the plummet. Airbus control logic automatically disengages the autopilot if the control stick is pushed to its limits.
Flt Lt Jones suffered a number of injuries as a result of being flung against the cabin roof during the dive, including a prolapsed disc in his back and nerve damage – and discovered a year after the flight that his back was actually broken. He was medically downgraded after the flight and is now captain of the Great Britain Invicta Games team, a sports team reserved for disabled armed forces personnel.
Fourteen other military passengers aboard the Voyager – a militarised version of the A330 airliner, fitted with air-to-air refuelling equipment – were so badly injured or shaken up by the incident that they were unable to continue to Afghanistan, where they were due to deploy on military operations.
Voyager ZZ333 was returned to RAF service after exhaustive tests, including X-rays of the captain's stick assembly and assessments of cosmic radiation measurements to see whether factors other than the camera had affected the aircraft's fly-by-wire computers. ®